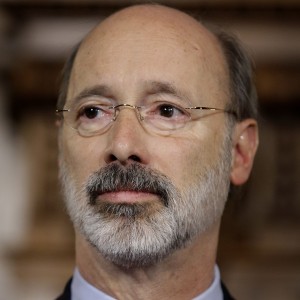 Outgoing Gov. Tom Corbett seems dead set on implementing his version of Medicaid expansion, despite outcry from Governor-Elect Tom Wolf and Senate Democrats alike.
As reported by Kate Giammarise of the Pittsburgh Post-Gazette, administration officials have indicated they are moving forward on the proposed Healthy PA plan.
"The state has executive contracts with insurers, made technical changes to computer systems and has advertised the program," she writes.
Healthy PA does not expand Medicaid per se, but instead uses federal subsidies to allow an estimated 600,000 low-income Pennsylvanians the opportunity to purchase private insurance plans.
Wolf, who steps into office on Jan 20th, has already indicated he will be expanding Medicaid under the original ACA guidelines. Now facing a new hurdle, Wolf spokesman Jeffrey Sheridan said the incoming Governor's opposition has been "clearly communicated to the Corbett administration." He added, "The Corbett administration still has the opportunity to do the right thing," with regards to not implementing Healthy PA.
Senate Democrats are likewise up in arms about the situation. Senator Vincent Hughes (D-Philadelphia) stated, "How much is this ad campaign costing? How much is being spent on a program that very likely will ever see the light of day?" Regardless, the Senator still encouraged Pennsylvanians to enroll.