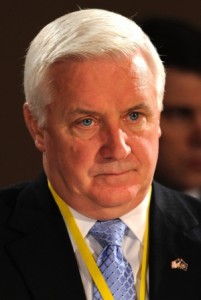 Gov. Tom Corbett said Wednesday that while he believes that he kept his pledge from his 2010 campaign that he wouldn't raise taxes, he won't be able to make the same promise heading into this November's election.
Corbett, however, did during his first term increase and institute new fees during his first term and signed a transportation bill that increased gas taxes. All this despite the fact that he  stated in a debate during the 2010 general election campaign that he would not raise any fees.
"I think when you talk to taxpayers and, as a whole, you say, 'Is Gov. Corbett keeping his promises on the issue of taxes?' I think they're going to say 'yes' because they're not paying more taxes in the personal income tax," Corbett said. "They're not paying more taxes in the sales tax. They're not paying more taxes in new taxes."
Last November, Corbett signed a transportation bill that received bipartisan support – including a nod from opponent Tom Wolf – that centered mostly around an increase on gas taxes. Corbett, however, argues that he did not increase the percentage of gas taxes per say, but instead allowed them to increase as gas prices increase.
In the past five months, Corbett has signed legislation doubling the fee for birth certificate copies, increasing the fee on court filings, and imposing local impact fees on oil and gas drillers.
In addition, last year he delayed a decrease in the capital stock and franchise tax, which both the Pennsylvania Chamber of Business and Industry and the Pennsylvania Manufacturers Association – both organizations that generally support Corbett – called a tax increase. Corbett disagrees.
Corbett claimed that while he cannot make the same pledge this year, he will do everything he can to continue to keep taxes "under control."
"What I'm saying is, we're going to continue doing what we're doing and that's trying to provide the best possible government we possibly can, to be the most efficient we can, to be a government that encourages the growth of the private sector in Pennsylvania so that more people can keep more money in their pockets."
When asked if he regretted making the promise not to raise taxes four years ago, he said that predicting the large amount of new revenue PA would need during his term would have been impossible.
"Nobody has the crystal ball that's going to say, 'Well, I can say this and not worry about it; I can say that and not worry about it,'" Corbett said.