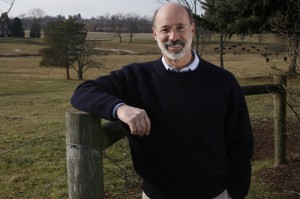 Democracy for America, a Democratic PAC that uses grassroots campaigning tactics and considers itself "people-powered," endorsed Democratic gubernatorial candidate Tom Wolf today via press release.
An email from Chairman Jim Dean to each of the DFA's more than one million members, included in the release, opened with harsh criticism of Wolf's incumbent opponent.
"In 2010 the Tea Party took over Pennsylvania, led by the election of Tom Corbett as governor," he said. "The results have been devastating. Now it's time to take Pennsylvania back."
The email goes on to compare Corbett's past actions – including his refusal to expand Medicaid – with Wolf's intentions once in office.
"No wonder Pennsylvanians are ready to fire Corbett," Dean claimed. "He has some of the lowest approval ratings in the country. Yet Corbett will likely have millions of dollars pouring in from right-wing extremists to help him hold his seat. It's time we fought back."
This is followed by a link to donate to Wolf's campaign, asking for $3 from anyone willing.
The email also repeatedly references the Tea Party, despite Gov. Corbett's not particularly conspicuous membership, perhaps attempting to contextualize him within the group's often negative reputation among Democrats.
According to Democracy for America, the endorsement will bring to Wolf's campaign "a surge of individual contributions and volunteer commitments from grassroots progressives in Pennsylvania and throughout the country."