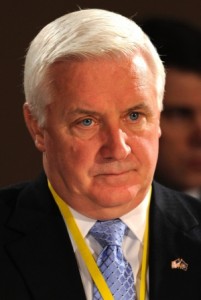 We're entering the heart of a midterm election year and Pennsylvania's Governor's race will not be immune from the avalanche of cash that is sure to flow.
This fact became even more evident today with the announcement that liberal billionaire Tom Steyer is pledging that his SuperPAC, NextGen Climate Action, will spend $100 million this year and that Gov. Corbett is own of their targets.
NextGen Climate Action is an environmental political action group that advocates for candidates that will address climate change.
"In states where climate change is on the ballot, we're taking action," they state on their website.
According to Politico, the group told reporters that their money will be focused on seven races this year. Four will involve defending potentially endangered incumbent Democratic Senators or Democrats running in close races in Colorado, Iowa, Michigan and New Hampshire. The other three concern targeting GOP governors in Florida, Maine and Pennsylvania.
The group first became involved in electoral politics last year when they aided Democrats Ed Markey and Terry McAuliffe who respectively won their races for the Senate in Massachusetts and Governor in Virginia.
NextGen provided Politico with a state-by-state breakdown of their strategy.
"The group will dismiss Gov. Tom Corbett as an extremist on climate change," they said. "It will target low-income voters affected by pollution in the state and voters in Philadelphia who didn't vote in 2010."
Gov. Corbett will be battling former Department of Revenue Secretary Tom Wolf in the general election.