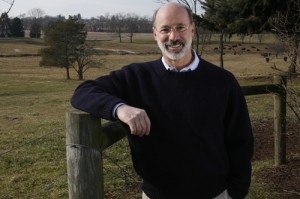 The June 2014 Franklin & Marshall College Poll found that Democratic challenger Tom Wolf is successfully maintaining his wide lead over Governor Corbett by a 47% to 25% margin. 27% of participants were unsure.
The same poll found that only 26% of registered voters believe that Gov. Tom Corbett has "performed sufficiently well to deserve reelection." 59% of voters believe that PA is "off on the wrong track."
27% of respondents rated Corbett's governing as "excellent" or "good," and claimed the economy (23%), his fiscal responsibility (15%), and his successful addressal of PA's problems (12%) as their reasons. 49% of Republicans voted his job performance as excellent or good (up 11% since January), while only 8% of Democrats and 16% of independent voters ranked him as such.
70% of respondents said Gov. Corbett was doing a "fair" or "poor" job running PA. They claim education issues (27%), economic issues (13%), stagnation in PA (9%), and his handling of natural gas issues as their reasons for their poor evaluations of the Governor.
Gaps in public opinion of the candidates seems to suggest that registered voters are at the moment more against Corbett rather than for Wolf. Only 8% more participants viewed Wolf as strongly or somewhat favorable, but 35% more viewed Corbett as strongly or somewhat unfavorable. In addition, while only 9% were unsure of their opinion of Corbett, 32% did not know how they felt about Wolf.
Wolf leads across nearly all demographics and all regions.
Education (22%) and the economy (13%) were the most cited issues as being most important to respondents in the PA race for Governor.
78% of respondents claimed they were certain they would vote in PA's election for Governor.
When asked who they thought would win the November election regardless of their allegiance, 54% believe Wolf will prevail while just 19% think Corbett will be re-elected.
The survey was conducted from June 23-29 and has a margin of error of +/-4.4%. 502 registered voters were interviewed at Franklin & Marshall College's Center for Opinion Research.