PA-Gov: GOP Blasts Wolf Over Funds For Domestic Shelters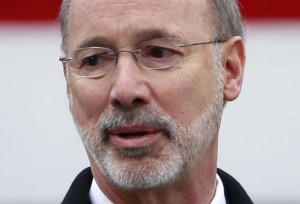 In the midst of the budget stalemate, some of those in need are finally getting their funds. The argument over the delay, however, has just begun.
As reported by Matt Maisel of Fox 43, Pennsylvania's domestic violence shelters received some much needed support in the form of $3 million from the Family Violence Prevention Services Act.
Nevertheless, several organizations were upset that they didn't get the money sooner as this has been an issue for some time.
"The federal government recently directly the administration to release specific federal funding for domestic violence shelters and the Office of the Budget worked with them to do so in a timely manner," Governor Wolf's spokesman Jeffrey Sheridan told Maisel.
Maisel's next sentence provided the crux of the controversy.
"When pressed on why it took so long, the governor's office admitted they did not know they had the authority to release federal funding without a state budget in place," he wrote.
This prompted a missive from the PA Republican Party.
"Pennsylvanians needing domestic violence centers have now paid the price for the Wolf Administration's ignorance," PA Republican Party Communications Director Megan Sweeney said. "Republicans have spent months trying to release funds for domestic violence shelters and other non-profits during this budget crisis, only to be blocked by Tom Wolf and Harrisburg Democrats. Now we find out the Wolf Administration couldn't even be bothered to find out if they could release federal funds to these domestic violence centers."
"Governor Tom Wolf owes Pennsylvanians some answers as to why his Administration refused to release these federal funds," she continued. "Does he find it acceptable that his Administration chose to operate in willful ignorance while these domestic violence centers struggled? What other federal non-profit funds are being unnecessarily blocked because he doesn't know any better? Claiming ignorance has not helped anyone, Governor Wolf."
"Governor Tom Wolf's Administration has failed the domestic violence centers of Pennsylvania. It is time for Governor Tom Wolf to apologize to Pennsylvanians for making this budget crisis even worse."
PoliticsPA reached out to Sheridan, who sent the following reply:
"Without the spending authority granted in an approved general appropriations bill, the commonwealth may only continue operations in areas that affect the health, safety, and protection of Pennsylvanians or make payments as required under Federal Law, state court decisions or the Pennsylvania Constitution. The Pennsylvania Constitution mandates that "[n]o money shall be paid out of the treasury, except on appropriations made by law…"
"Additionally, Act 117 of 1976 says, 'the State Treasurer is hereby specifically prohibited from issuing any warrant for requisitioned funds which were derived, in whole or in part, from Federal funds unless such funds have been specifically appropriated by an act of the General Assembly.'
"However, throughout the process, we have worked closely with stakeholders including the federal government and we have received additional guidance on our authorization to make some specific payments. As a result, the administration was able to move certain payments to the mandatory payment list."