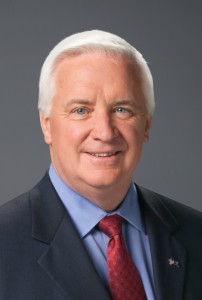 Gov. Tom Corbett's most recent campaign finance report shows that the Republican incumbent has $4.8 million in the bank after spending $2.9 million and taking in $1.4 million in contributions during the past month.
Corbett's numbers compare both favorably and unfavorably to his opponent's latest financial report. Democratic nominee Tom Wolf has $3.1 million tucked away after spending almost $2 million and getting $3.5 million in contributions during the last month.
Though Gov. Corbett has more cash available than Wolf, he has about $1.5 million less in the bank than he had at the start of last month. He spent twice as much as he received during the last month, and raised less than half what Wolf did, although the attention of a contested Democratic primary may be to blame for that.
Contributions
Corbett received $373,167.03 in in-kind contributions and $1,387,514.96 in monetary contributions in the period between May 6th and June 9th.
Political action committees (PACs) accounted for $331,050 of the contributions. The Western Pennsylvania Laborer's PAC and the Penn Strategies PAC were the largest contributors among the PACs, donating $50,000 each.
Of the $1,387,514 in monetary contributions, unitemized donations under $50 made up $33,571.79. Contributions over $250 constituted the vast majority of Corbett's total with 1,283,370.
Expenditures
Corbett's campaign spent $2,890,536 last month compared to $2,463,223.25 in the month prior.
The bulk of Corbett's money, over $2.4 million, went to consulting firm Brabender Cox for "media placement."
Altogether, while Gov. Tom Corbett may be twenty points behind Tom Wolf in the polls, he does still have the money in the bank to make inroads on the Democratic nominee's lead.