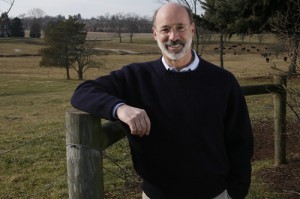 After a tough week, the Wolf campaign received some good news this morning.
John Hanger, the former DEP Secretary and candidate for Governor, revealed in a post on his blog that he is backing Tom Wolf in the gubernatorial race.
Hanger had been a candidate in the Democratic primary but dropped out back in March. A staunch advocate for legalizing marijuana, his campaign had accumulated a small yet passionate following. Interestingly, Hanger's stated rationale for leaving the race was that Wolf's campaign had built an insurmountable lead.
"In these times, when many leaders of all types of institutions too often use their power to benefit themselves and use fear to divide, Tom Wolf stands out as a leader dedicated to the people and the common good," Hanger writes. "Tom leads not by appealing to the worst in humanity but by unleashing the good in all of us to serve higher purposes."
"Tom, however, is no dreamer. He is a doer," Hanger asserts.
Citing President Lincoln's Gettysburg Address, he goes on to contend that Wolf will bring "a new birth of freedom" by protecting the right to vote, supporting same-sex marriage and reforming the state's marijuana laws.
Additionally, the former candidate talks of his personal relationship with Wolf, who he has known for over ten years and briefly served with in Gov. Rendell's cabinet. He also praised Wolf's "positive campaign".
"I strongly, enthusiastically endorse Tom Wolf, because he will be the great, transformational governor Pennsylvanians need so desperately right now!" Hanger concludes. "On May 20th, I will cast my vote for Tom Wolf, and I have never been more excited to vote for a candidate. Please join me in voting for Tom Wolf on May 20th and then again this November."