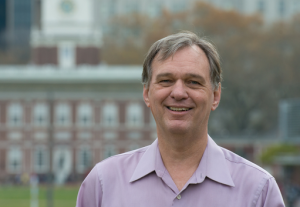 After a few days in retirement, John Hanger was able to reflect back on his time in Gov. Tom Wolf's Administration with a little perspective, sitting down (standing up, actually) with Wallace McKelvey of PennLive.
The former Secretary of Policy and Planning seems proud of his time working with Wolf, saying he "would not have done anything of substance differently."
Hanger found himself a position in the Wolf Administration after losing out on the Democratic nomination in 2014 to the York businessman. Having won the 2014 election handily, Wolf came into the state's highest office on a high, but may have mistaken the almost-double-digit win as something of a mandate.
Hanger helped shaped the Administration's 2015-16 budget and said the proposal was designed to go after all of the policy priorities Wolf promised in the campaign – which may have doomed it.
The feel-good factor evident in the first few months of the Wolf Administration has all but evaporated, with the 2015-16 budget now 238 days late – though Wolf released $23 billion in emergency funding with a line-item veto in December.
"I watched this governor, for the first six months, pursue every kind of sugar and syrup strategy he could think of," Hanger said of Wolf's charm offensive. "He broke bread. He invited them to his office. He went to their office. He socialized. He turned the other cheek in meetings where no one else would turn the other cheek. He took a lot of guff and, frankly, got us nowhere."
Though Wolf has failed at many of his legislative attempts, Hanger placed much of the blame on the Republican Party in the State House and Senate, particularly House Speaker Mike Turzai.
"He's the Speaker of the House, not some back-bencher," Hanger said. "He's been opposed all along. He wanted his liquor bill, his way. He's not been willing to compromise on liquor. No shale tax regardless of the terms that were put on the table. Where has Turzai compromised on anything?"
Hanger has spent much of the last two decades in and around state government, working with a strong focus on environmental issues. He served under former Gov. Ed Rendell as the Secretary of the Department of Environmental Protection, as well heading the PA Public Utility Commission in the '90s.
Now that he is out of the political sphere, Hanger felt the need to defend his legacy – including the last year under Wolf.
"I fundamentally reject the notion that I haven't always engaged with members in a way to find constructive solutions," Hanger said. "At some point, though, you cannot in fact have a successful negotiation with someone who is fanatically opposed to reaching a compromise."