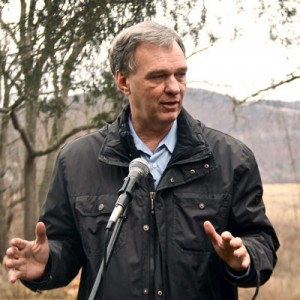 Former DEP Secretary John Hanger will end his campaign for governor today at an 11am press conference.
"At its outset, in November 2012, this campaign had three goals. First, propose bold, transformational policies to strengthen education, create good-paying jobs, protect our environment, produce clean energy, and bring forth a new birth of freedom for all Pennsylvanians. Our second and third goals were to win the Democratic Primary and end the long nightmare of the Corbett Administration in November," Hanger will announce at the conference.
"Our second goal of winning the Democratic primary simply slipped beyond our reach. Tom Wolf's television campaign has been startlingly effective, and he has taken a commanding lead, having reached support of 40% or more. With no path to victory, to press on could cause damage to the issues and people for which we campaigned," Hanger's statement continues.
His withdrawal comes after a strong petition filing. The Hanger campaign was able to bring in 4,600 signatures and received 100 from 16 PA counties, but his recent polling performances have been lackluster, and put him in the back of the crowded field.
He is the *fourth candidate to withdraw, following Lebanon County Commissioner Jo Ellen Litz, minister Max Myers and Allentown Mayor Ed Pawlowski.
Remaining in the Democratic field for governor are former Auditor General Jack Wagner, Rep. Allyson Schwartz, former Revenue Secretary Tom Wolf, State Treasurer Rob McCord and former DEP Secretary Katie McGinty.
*Corrected to say 4th candidate