Former PA DEP Secretary John Hanger released a new web video showing where he picked up an endorsement from a conservative radio host.
Mike Pintek, a Pittsburgh radio host, said on air that he would  change his registration to Democrat in order to vote for Hanger in the Democratic gubernatorial primary on May 20.
"Why?" Pintek asks in the video. "Because Hanger thinks outside the box. This is the guy that wants to legalize marijuana in Pennsylvania."
Over photos of Hanger, Pintek goes on to talk about the warm welcome that an audience gave Hanger at a recent forum, according to a Philadelphia reporter.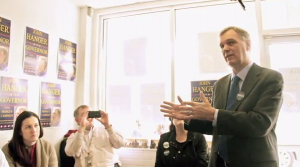 "He's my man!" Pintek says emphatically.
"Every day, and everywhere I go, I hear from people who are changing registration or registering for the first time to support our people's campaign," speaking of this Republican to Democrat switch, Hanger said. "At this point there are swarms of newly enrolled Democrats supporting us.  They were Republicans, Independents, Libertarians, Greens and previously unregistered voters, and they are responding to our message of 'Schools, Not Jails; Jobs, Not Jails – Legalize, Regulate and Tax Marijuana.'"
Last month Hanger released a video about the legalization of marijuana and the benefits it would bring to Pennsylvania. A mere two or three weeks later, Hanger unveiled 'Legalize Marijuana' billboards near Erie and Scranton. Also, off the topic of marijuana but still remaining on something Hanger knows a lot about, in October 2013 he released a web video about fracking.
In the Democratic primary, Hanger faces former Auditor General Jack Wagner, State Treasurer Rob McCord, Rep. Allyson Schwartz, former DEP Secretary Katie McGinty, former Revenue Secretary Tom Wolf and Lebanon County Commissioner Jo Ellen Litz.