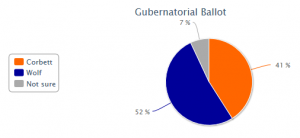 Harper Polling just released the third survey of the Pennsylvania gubernatorial election in the last week. Like the two previous polls, Harper finds Wolf with a double-digit lead, although Gov. Corbett is much more competitive.
The difference may lie in the fact that Harper's poll of likely voters contains far fewer undecideds.
Wolf holds a 52% to 41% advantage while just 7% of respondents remain undecided.
The Democratic nominee is doing a better job of holding his base, as he has the support of 82% of Democrats while just 70% of Republicans are backing Corbett. Wolf is taking 21% of the GOP vote while 14% of Democrats say they're voting for the Governor.
According to the regional breakdowns Harper unveiled, Corbett holds a small lead in the South Central part of the state (48-45) while Wolf has a slight edge in the Pittsburgh/Southwest region (48-46). Meanwhile, the Democratic nominee leads 58% to 35% in Philadelphia and the Southeastern part of the state.
Harper also asked their respondents, regardless of how they're voting, who they thought would ultimately win the race. 61% believe Wolf will become PA's next Governor while just 33% believe Corbett will earn a second term.
Perhaps most distressing for the Governor, just 53% of Republicans believe he'll win. This could hurt turnout because if voters don't think their candidate has a chance, they are less likely to make the effort to vote. This could create a self-fulfilling prophecy that could significantly damage Corbett's chances.
The one silver lining for Gov. Corbett is that 43% support his decision to expand Medicaid compared to 38% who were opposed. 19% were unsure.
Harper Polling is a GOP firm that was created in 2012.
Harper conducted an Interactive Voice Response (IVR) automated telephone survey of 665 likely voters. The poll took place on September 2nd and 3rd. The margin of error is plus or minus 3.18%.