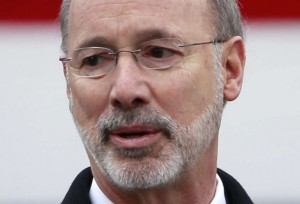 Governor Tom Wolf's favorability ratings may not be stellar but in today's day and age, if you're above water you should be happy.
That's the situation Gov. Wolf finds himself in as 49% of respondents in the latest Harper Poll have a favorable impression of him. 25% are very favorable while 24% are somewhat favorable.
On the other hand, 43% have an unfavorable view of Wolf, with 24% saying it is a very unfavorable view while 19% are going with somewhat unfavorable.
Wolf has a 12-point advantage among women (52-40) compared to a three point edge with men (48-45).
Harper also asked what grade the respondents would give Gov. Wolf on an A to F scale.
16% went with A, 22% said B, 20% responded C, 18% feel the he's earned a D and 21% failed the Governor. Wolf's best region was Philadelphia/Southwest while his worst was Pittsburgh/Southwest.
Gov. Wolf's numbers are particularly impressive when you consider that 59% of people believe the commonwealth is on the wrong track against just 29% who feel PA is going in the right direction.
Taxes
In his budget address, the Governor announced an ambitious plan to cut property taxes while raising income and sales taxes. The move is intended to reduce the overall tax paid by middle-class households while increasing funding to education.
So far, Wolf's plan isn't working.
A whopping 70% of respondents believe their taxes are more likely to go up under the Gov. Wolf's plan. Just 15% think their taxes will go down while 6% said they'd stay the same. Nine percent were unsure.
These numbers may be the result of a recent report from the Independent Fiscal Office, which showed that under the Governor's plan, taxes would rise for all income groups (though the wealthy would see the largest increase).
If there is a silver lining for Wolf, though, it's that property taxes are the most hated revenue-gathering method.
51% identified property taxes as having the biggest effect on their personal finances. Just 27% said income taxes while 14% responded that sales taxes were the worst for them.
The sample size for the survey is 503 likely voters in Pennsylvania and the margin of error is +/-4.37%. Responses were gathered through landline interviews conducted using Interactive Voice Response (IVR). The survey was conducted May 6-7, 2015 by Harper Polling.