PA-Gov: Harrisburg Buzzing with Speculation of Wolf's "Fairer Tax System"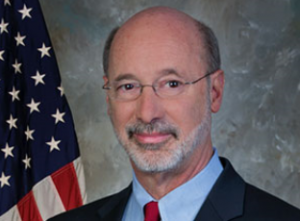 With Governor Tom Wolf's first budget address coming next week, the talk in Harrisburg has intensified.
According to Brad Bumsted of the Tribune-Review, the Gov may be targeting potential increases in some state taxes as well as a significant property tax reduction.
On Tuesday, Wolf met with business leaders but declined to say if would propose increases in the 3.07% income tax or the 6% sales tax to combat the state's $2.3 billion deficit. However, he said his proposal will be a "fairer tax system."
Lawmakers and staffers alike are saying a property tax cut, curtailing of sales tax exemptions and a decrease in the 9.9% corporate net income tax could be among the proposal's trade-offs. These reductions along with an increase in the tax on tobacco may be on the docket.
Earlier this month, the Governor discussed using a 5 percent tax on natural gas extraction as well as expanding Medicaid.
On March 3, Wolf will address his proposal in front of a joint House-Senate session where he believes there will be "surprises for the people in that room." He declined to speak about a graduated income tax, a proposal he floated during the 2014 campaign.
The Republican-controlled House and Senate believe that pension reform and privatization of alcohol should be considered first.
Wolf has said he would veto any bill selling state stores, like the one moving through the House this week, and downplayed the need for pension reform in his campaign, citing a previously approved bill that needs time to work.
Many in the legislature also assume that Wolf plans to increase education spending. They believe that such a plan, coupled with the task of closing the deficit, would require increases in the income and sales tax.