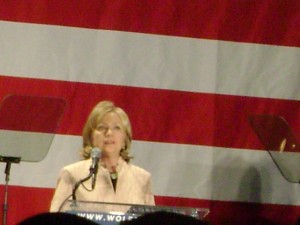 Hillary Clinton stopped by Philadelphia tonight to campaign for Democratic gubernatorial nominee Tom Wolf.
The former Secretary of State/U.S. Senator from New York/First Lady of the United States and Arkansas brings quite the buzz with her wherever she goes.
The familiar "Ready for Hillary" bus was parked outside for example. (The group passed out free posters featuring the famous cellphone meme as their de facto logo and the phrase "#Ready"). As well as the untold number of people that jammed into the Constitution Center to catch a glimpse of her.
Hillary, of course, has quite the number of connections to the building. Her family's foundation donated money to it and last year she received their Liberty Medal at a ceremony that took place just beneath where this event was held.
There was even a 2008 primary debate held there. Of course, it was also the location where her opponent, Barack Obama, gave perhaps his greatest speech on the very spot she would now be speaking at.
The always modest Tom Wolf was being honest when he called her "the person you're all here to see."
When one woman shouted out "I'm here to see you Tom!" The Democrat responded "I don't know how to take that."
That answer conclusively proves that Wolf is, as he has repeatedly said, not a politician.
Wolf's speech was short and full of praise for the guest of honor, as he noted her "Pennsylvanian blood" and told the crowd "she stayed true to those roots. She's one of us."
Clinton gave an impressive performance considering it was her first real opportunity to stump for another candidate. Taking in a view that included hundreds of supporters, dozens of TV cameras and, off in the distance, Independence Hall, she struck some important Keystone State notes.
"This state has been good to my husband and to me," she said alluding to the fact that Bill Clinton won the state twice and Hillary ran away with its 2008 primary.
Yet she also made sure to highlight the candidate on the ballot.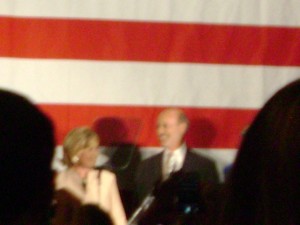 "I'm here for one reason," she explained. "As a proud woman for Wolf."
"Tom Wolf is the right leader for the right time for Pennsylvania's working people. You need Tom Wolf for Governor."
One of her primary themes was also the importance of women voters.
"When women vote in America, America wins," she proclaimed. "When women vote in Pennsylvania, Pennsylvania wins."
Secretary Clinton also took several shots at Republican Governor Tom Corbett, though without mentioning him by name. She called what's happened to education "a down payment on decline."
She especially had some harsh words for one of Gov. Corbett's most famous statements.
"He [Wolf] will never support a law forcing women to undergo an invasive ultrasound. He will never tell Pennsylvania women, stop complaining, you just have to close your eyes."
She also pointed out that her new granddaughter is another family tie to Pennsylvania. One that began with her "proud Nittany Lion" father from Scranton.
Pointing out in-law ex-Congresswoman Marjorie Margolies in the crowd, she talked about her son-in-law Marc Mezvinsky's Philly roots.
"There's a lot of Philadelphia and Pennsylvania in Charlotte," she stated, while revealing that Marc was already teaching the newborn how to be an Eagles fan. This got a big roar from the crowd (and deservedly so).
Finally, she talked about getting out to vote and the importance of not being discouraged from participating.
"From my perspective, you can't depend on things coming out the way you wanted," she commented to knowing laughs from the crowd.
As for that looming question, there was a bit of symbolism tonight. When Clinton first appeared, a wild cheer went up from the crowd. There was only one problem, she showed up too soon. Wolf wasn't done introducing her yet.
"Listen, I'm the one running for Governor," Wolf jokingly chastened her.
When she got a second chance, she nailed it.
The presumptive 2016 Democratic front-runner has ways of letting people know her thinking without explicitly saying so. Last year she proved it when she talked about TR's famous exhortation to stay "in the arena."
"We believe everyone deserves not just a chance but a second chance and even a third chance," she said at one point.
Towards the end, she noted that this week was the 30th anniversary of Kathryn Sullivan becoming the first American woman to walk in space.
"Was she afraid? Probably," she said. "Did that stop her? No way."