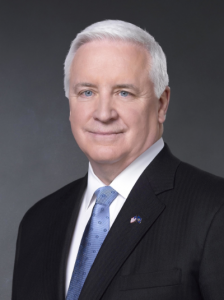 This week, Magellan Strategies released the results of a PA-Gov poll commissioned by the Keystone Report, a conservative PA news site.
The poll surveyed 1,214 likely Pennsylvania voters via automated calls following Governor Corbett's recent attack advertisements. 46% of the poll's respondents identified themselves as Democrats, 43% as Republican, and 10% as independent, according to Magellan.
Among voters who say they have definitely decided upon a candidate, Governor Corbett's vote percentage has improved to within 7 points of York County businessman Tom Wolf's numbers. 35.9% of respondents favored Wolf, while 28.6% favored Corbett. 12% still remain undecided.
The crucial missing percentage is the 24% of PA likely voters polled who responded that they are leaning toward a candidate. These "leaners" will make the difference in November, as the two crucial questions will be whether they turn out to vote, and if so whom they ultimately mark on the ballot.
Magellan Strategies finds that Wolf's lead expands to 12 when leaners are included. 50.3% support Wolf, 38.1% support Corbett, and 11.6% are still undecided.
A CBS/New York Times survey released last week also evidenced that Governor Corbett may be overcoming his polling deficit. The online scientific poll reported that Wolf holds a 43% to 33% lead over Gov. Corbett. Although, once again, when leaners were included the challenger's lead widened to fourteen points.
These numbers still show a marked improvement for the Governor from earlier this year when Franklin and Marshall, Quinnipiac, and PPP all found Wolf to be holding a lead of over twenty points.
Meanwhile, Jon Geeting of the progressive news site Keystone Progress attempted to pour cold water on the idea that Gov. Corbett is building momentum. Geeting argues that Republicans are simply returning to their nominee and that polling averages still have Wolf at the magic 50% marker.
At this point, we have a tale of two races and it will be highly intriguing to see if further polling can give us a clearer idea of the current electoral landscape.