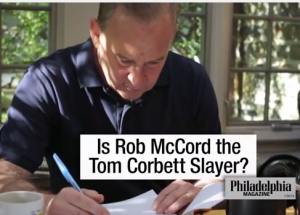 At a live-streamed editorial board meeting with the Patriot News earlier this week, McCord was pushed to answer questions about the outsourcing he oversaw in his business background.
McCord led the Eastern Technology group in the late nineties, a company that offers consulting services and also shipped jobs out of the United States.
"In the '90s in particular most places didn't have IT offices and they were going through a lot of stuff," McCord said in the meeting. "The raw spend in India because of the looming 'Y2K problem' was overwhelming. And I will tell you the executives I knew, and I knew 8,000 executives roughly – 10 for every member company [of ETC] – were terrified of Y2K, and they were desperate."
But that's not the whole story, according to a column today from Philadelphia Inquirer's Tom Fitzgerald. The company promoted outsourcing again in 2005 and 2007, a comfortable distance from the Y2K scare.
"With nearly 500,000 active and retired union members backing Rob McCord for governor, he has earned more union endorsements than any other candidate in the race. And, as a business leader he helped invest in start-up companies that created more than 2,000 jobs in Pennsylvania," McCord spokesman Mark Nevins told PoliticsPA. "His position and track record on standing up for working families in Pennsylvania is well-established.  As chairman of the Eastern Technology Council Rob was not involved in proposing or approving seminar topics.  He is opposed to outsourcing jobs overseas and will continue to fight for working families as governor."
The rest of his editorial board interview was strong, and he spoke in detail about his work as State Treasurer, preventing the lottery privatization, and what he would do for education if elected governor.
However, criticism about outsourcing is prime for a 30-second ad from any of his challengers willing to go negative in their media buys.
His challengers include Rep. Allyson Schwartz, former Revenue Secretary Tom Wolf and former DEP Secretary Katie McGinty.