Well, it couldn't last forever. Today the first negative ad in the Democratic primary for Governor was released though it is missing some of the standard negative ad fare.
State Treasurer Rob McCord's latest commercial, titled "Sucker", contrasts his 10% extraction tax on natural gas drilling to Tom Wolf's (Katie McGinty's and Allyson Schwartz's) plan for a 5% extraction tax. Unlike most negative ads, though, McCord delivers the message himself and the spot is mostly devoid of the textbook scary music and black and white imagery.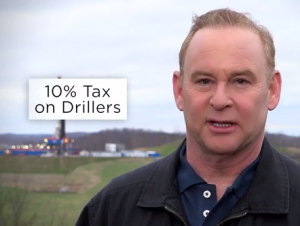 "Here's the biggest question in this campaign," McCord states in front of a drilling rig. "Are we going to get our fair share from the fracking industry or are we gonna keep giving away the store?"
McCord goes on to state that his 10% tax will go towards protecting the environment and fully funding PA's schools.
"Tom Wolf and the others would leave hundreds of millions of dollars in the driller's pockets," McCord continues. "That's a bad deal for Pennsylvania. I'm tired of being played for a sucker, if you are too, join us."