McCord released a new ad today hitting Tom Wolf for his pervasive ads and that his company uses a cabinet manufacturer in Indiana.
"We've all seen Tom Wolf's ads about his business, his kitchen cabinets and PA manufacturing so when I heard that they manufacture those cabinets in Indiana, I figured they were made by workers here," McCord says to the camera. "[But] it's not Indiana, Pennsylvania. It's Indiana Indiana."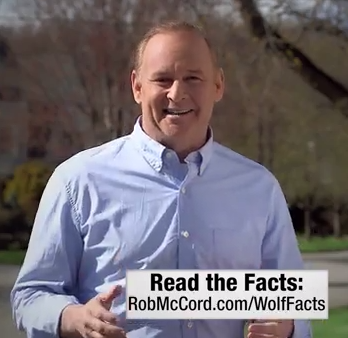 He then discusses his record as a job creator in the private sector before he won the race for state treasurer.
"Tom Wolf's ads are nice, but they're miles away from the whole truth," McCord concludes.
The 30-second spot captures McCord's bombastic personality in this campaign, and the issue is a slam dunk for him as he has scored the greatest quantity of Pennsylvania labor organizations of anyone in the race.
We are now less than 3 weeks from the primary and the race for governor has taken a sharp turn to the negative. Wolf has been attacked roundly by Allyson Schwartz for his tax returns and the loan he took to partially finance his campaign. He's also been hit by Schwartz and Governor Tom Corbett for the plagiarism spotted in his Fresh Start policy plan.
The four candidates (Katie McGinty has remained mostly above the fray) will appear in a forum together tomorrow night at Franklin and Marshall – the first time since the race became this heated.
UPDATE: Team Wolf responded to this latest ad with the following statement:
"The Wolf Organization sources Wolf-branded products made in the United States, some are made in Pennsylvania, some are made in other states. Tom Wolf has created hundreds of jobs in Pennsylvania and more throughout the country," Wolf spokesman Mark Nicastre said. "This attack is particularly desperate given Rob McCord's own record of outsourcing jobs, if it were up to Rob McCord, these jobs would be in India, not Indiana, or Pennsylvania."

Rob McCord Encouraged and Trained Companies to Outsource Jobs:

 "The Eastern Technology Council, a trade organization McCord led from 1996 to 2007, partnered with Judge Group, a consultancy which offered services to council members, including advice on how to outsource jobs overseas…A survey of Eastern Technology Council members in 2006 found that 48 percent of respondents had shipped high-skill jobs overseas, about 90 percent of them to India, saving an average of 25 percent on staffing costs. A report on the poll is here on page 18 of the June 2006 Technology Times newsletter produced by the council." (

Philadelphia Inquirer

, April 3, 2014)
McCord Blamed His Outsourcing on Y2K But Outsourcing Took Place Far After Y2K Scare: 

"But McCord's organization was promoting outsourcing well after the Y2K scare. In 2001, twice in 2005 and in 2007, the Eastern Technology Council held training sessions and discussions about outsourcing, both in webinars and in live meetings." (

Philadelphia Inquirer

, April 3, 2014)
UPDATE 2: The Corbett campaign issued a response to the Wolf response, pointing out a bit of mixed messaging from the Wolf camp.
"So much for millionaire Secretary Tom Wolf's policy of building each other up and not tearing each other down, huh? "
UPDATE 3: The McCord campaign responded to the responses to their ad.
"When Tom Wolf decided to manufacture his own Wolf-branded cabinets, he declared himself the 'master of his own destiny.'  He could have gone anywhere to make them.  He chose Indiana," said Mark Nevins, spokesman for the McCord campaign.  "Did Tom feel that there were no qualified companies with whom to partner in Pennsylvania?  What was he thinking?  All he can do is try and change the subject.  If he so badly wants to bring manufacturing back to Pennsylvania, maybe he should start by making his cabinets here."

Wolf Organization Creates Manufacturing Jobs in Indiana.
"'Instead of being creatures for somebody else, we're going to be masters of our own destiny,' said Tom Wolf, chairman, CEO and sixth-generation leader of the York-based Wolf Organization, which started in 1843 as a lumber, hardware and building materials business.  "The 168-year-old firm — formerly a traditional wholesale distributor of building products — is re-inventing itself as a brand, contracting with Kountry Wood, an Indiana-based Amish manufacturer, to produce three styles of private label, WOLF-branded cabinets."  Source:  http://www.ydr.com/ci_19871286