Rob McCord's latest ad in the gubernatorial primary attacks Tom Wolf for his company's pension plan that resembles the proposal Governor Tom Corbett has for state pensions.
"On pensions, the press is comparing Tom Wolf to Tom Corbett. Here's why: Wolf admits his company terminated its pension plan. Corbett's proposed doing the same thing to the state pension fund," the male narrator says. "There's more. A state pension investment fund lost $19 million on Wolf's company. The biggest loser? Our state retirement fund. Rob McCord has protected pensions, helping the state fund make $35 million."
The Wolf campaign issued their own fact check after this ad first ran. According to their release, Wolf has said that he supports a competitive compensation plan and the protection of defined benefit plans for state employees.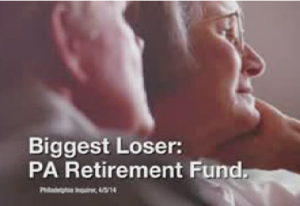 His company went under new leadership in 2006 when he left to join the Rendell administration. In 2008, the new management of Wolf added a defined contribution plan for employees. The Wolf Organization contributes 3% regardless of whether the employees contribute and also matches employee contributions up to 3% on top of the automatic 3%.
As to the second charge made in the ad, the Wolf campaign dissents again.
SERS invested $50 million in Weston Presidio V. Weston Presidio made an approximately $40 million investment in Wolf Organization as part of Weston Presidio V, a $1 billion fund. The Wolf campaign asserts that the math simply does not allow for $19 million of SERS money to have been lost in the Wolf Organization.
This is McCord's fourth negative ad against Wolf. His first attacked Wolf's 5% impact fee proposal; the second critiqued his company's use of a cabinet manufacturer in Indiana; the third was the particularly controversial spot that linked Wolf to York Mayor Roberston.