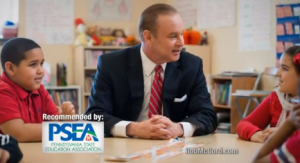 State Treasurer and gubernatorial candidate Rob McCord revealed his proposal for reforming the state's education system today.
Polls have recently shown that voters are as concerned about education as they are about the economy. Education, therefore, has become a centerpiece of the campaign and played a major role in McCord's first TV ads.
McCord's plan calls for a 10 percent  tax on drilling which will provide $1.3 billion for education programs. $1.1 billion will go to K-12 programs while $220 million is targeted towards early learning.
"Pennsylvania public education rescued me and there is no reason why every single Pennsylvania child should not have the same educational opportunities that I had," McCord said. "My plan not only invests in today's students but it makes sure that we fully fund our classrooms – from pre-kindergarten through high school and every step in between – so everyone can take advantage of our world class teachers, schools, and early learning centers."
The campaign provided a list of programs the candidate's proposal would cover:
•    The state's education subsidy;
•    Full-day kindergarten;
•    Dual enrollment programs;
•    Elementary STEM (science, technology, engineering, and mathematics) programs;
•    After school offerings;
•    Governor's schools for excellence; and
•    Teacher professional development.
Plus, McCord's education credentials have already been backed by the Pennsylvania State Educators Association in an endorsement earlier this year. The Pennsylvania State Education Association, an affiliate of the National Education Association, represents nearly 180,000 current and former teachers.
"Pennsylvanians, educators, and the students we serve deserve better than what we've gotten from Tom Corbett, and Rob McCord is the candidate who is ready to hit the ground running to meet those needs," said PSEA President Mike Crossey.
The union's political arm PSEA-PACE refers to its endorsement as a "recommendation." It doesn't necessarily come with campaign cash directly to the candidate (for example, the union backed Dan Onorato in March 2010 but didn't contribute to his campaign until after the primary). But it does come with significant support: pro-McCord mailers and phone calls, paid for by PSEA-PACE, will go to every one of its members across the state.
Other Democratic candidates for Governor include former Secretary of the Department of Revenue Tom Wolf, Congresswoman Allyson Schwartz, former DEP Secretary Katie McGinty, and former Auditor General Jack Wagner.