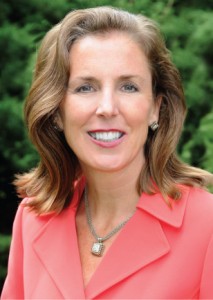 Democratic gubernatorial candidate and former DEP Secretary Katie McGinty announced a finance committee that will back her up with fundraising support from across the state and the nation.
The committee, comprising 56 members, aims to give McGinty support from various Pennsylvania business and energy leaders, national environmental leaders and Democratic party leaders.
"I am honored to receive major financial backing from such outstanding business, energy, political, and Democratic Party leaders representing all parts of Pennsylvania,"said McGinty. "Combined with the support from national environmental leaders, we have a broad and deep coalition of financial support to win the Democratic Primary and beat Tom Corbett in November."
The finance committee is an attempt to up McGinty's fundraising from 2013, where her numbers fell slightly behind the other candidates'. While McGinty was left with almost $2M cash on hand, State Treasurer Rob McCord had a whopping $6M and former Revenue Secretary Tom Wolf boasted $11M on hand to round out the year.
In her race for the Democratic primary, McGinty is up against McCord, Wolf, fellow former Secretary of the PA DEP John Hanger, Rep. Allyson Schwartz, Lebanon County Commissioner Jo Ellen Litz and pastor Max Myers.
The following is a list of the finance committee members.
Philadelphia Area Finance Committee Members include:
Wadud Ahmed: Founding partner, Ahmad, Zaffarese & Smyler
Eleanor Dezzi: Former Special Asst. to PA Lt. Gov. Mark Singel. Director, Mayor's Office of Neighborhoods for Mayor W. Wilson Goode
Ken Jarin: Partner, Ballard Spahr. Past Treasurer, Democratic Governors Association.
Judith Mondre: Founder, Mondre Energy. Named one of the top 50 women in business in PA
Jerry Sweeney: President & CEO, Brandywine Realty Trust
Pittsburgh and PA Statewide Finance Committee Members include:
John Brinjac: President & CEO, Brinjac Engineering
Lalit Chordia: President & CEO, Thar Technologies
Bonnie DiCarlo: Pittsburgh Business Leader
Bill Goodrich: Managing Partner, Goodrich & Geist. Former President, PA Association for Justice
Morgan O'Brien: President & CEO, Peoples Natural Gas
TJ Rooney: Former Legislator & Democratic Party Chair under Governor Ed Rendell
Bill Schenck: Founder, TriState Capital Bank. Former PA Secretary of Banking
National Finance Committee Members include:
Austin Beutner: Creator, Vision to Learn. Former Deputy Mayor of Los Angeles
Tom Casten: Chairman, Recycled Energy Development
Carl Pope: Environmental Advocate
Bill Richardson: Former New Mexico Governor, U.N. Ambassador, Energy Secretary
Larry Rockefeller: Attorney & Environmental Advocate
Wayne Rogers: Chairman & CEO, Green Energy Acquisition
Steve Silberstein: Co-founder, Innovative Interfaces
Cathy Zoi: Former member of the Obama and Clinton Administration