Gubernatorial hopeful Katie McGinty released two new 15-second clips that will air on television statewide.
The first one, entitled "Work" details McGinty's work as a "job-creating environmentalist." This refers to her stint as DEP Secretary, where she claims to have helped attract clean energy companies to Pennsylvania and create thousands of jobs.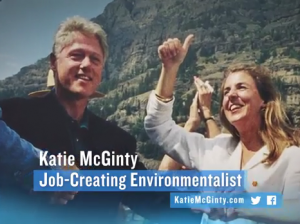 "Katie McGinty brought $1 billion in new investment and created thousands of Pennsylvania jobs as our Environment Secretary," a narrator says. "As governor, she'll get us back to work."
But McGinty's experience in environmental policy extends beyond Pennsylvania – she was a White House policy adviser under President Bill Clinton where she worked on energy and environment issues.
The second ad, "Severance Tax," focuses on McGinty's proposal to create a severance tax for oil and gas companies and her plans for the money gained.
"When oil and gas companies don't pay their fair share, the middle-class pays more in property taxes," McGinty says to the camera. "I'll impose a tax on those companies and use every penny to restore the Corbett education cuts."
McGinty was one of the first gubernatorial candidate to call for a severance tax on natural gas drilling, and her plan is slightly more nuanced than the rest. It's a two-tier structure comparable to West Virginia, but still at a lower rate and the lowest rate among her competitors whose plans range from 5% to 10%.
In the Democratic race for the party nomination, McGinty faces State Treasurer Rob McCord, former Revenue Secretary Tom Wolf, and Rep. Allyson Schwartz.