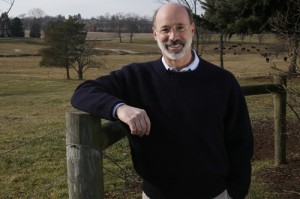 Over the last two weeks, little has changed.
That's the conclusion of the latest Morning Call/Muhlenberg poll, which shows former Department of Revenue Secretary Tom Wolf with a solid 23 point lead heading into the final weekend of the primary.
37% of respondents plan on voting for Wolf, while Rep. Allyson Schwartz places second with 14%, State Treasurer Rob McCord stands in third with 9% and former DEP Secretary Katie McGinty finishes with 5%. 32% are not sure.
The results of the last poll the organization released on May 1 are barely different. Compared to the beginning of the month, Wolf has dropped one point, Schwartz has gained one point, McCord is two points down and McGinty is three points up. All these changes are within the poll's margin of error.
Additionally, when those who are unsure are asked if they are leaning towards one particular candidate, Wolf's lead increases. With "leaners" included, Wolf holds a 41-16 lead. McCord and McGinty stand at 11 and 7 percent respectively.
Nor has negative campaigning brought down the front-runner. Wolf's favorability rating fell only 2% and still stands at a very healthy 70%. Schwartz's favorability also stayed largely the same going from 49% to 47%.
McCord, however, did suffer a setback among his personal ratings. This may very well be the result of the negative campaigning he has turned to, which prompted a scolding from Pennsylvania's last Democratic Governor, Ed Rendell. McCord's favorability dropped six points from 43 to 37 percent.
Meanwhile Katie McGinty, who has eschewed negative campaigning, saw her favorability ratings go up seven points to 35%.
The most important issue by far to Democratic voters is education. 30% cite it as their major concern compared to 15% who say the economy and jobs.
Of course, the only poll that matters is the one on election day, but Tom Wolf has to feel pretty good about where he stands just four days out.
This survey included 414 likely Democratic voters. It consisted of live telephone interviews and took place from May 13th to 15th. The margin of error is plus or minus 5%.