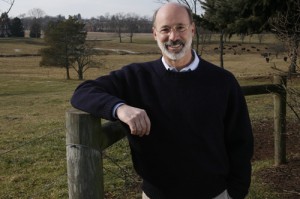 In what has become a recurring theme this gubernatorial campaign, Governor Tom Corbett his trailing his opponent, Tom Wolf, in the latest poll released this weekend.
Muhlenberg College / Morning Call found that 52% favor Wolf while 31% favor Corbett. When leaners are included, the margin remains even with Wolf at 54% and Corbett at 33%.
This is the first general election poll for Muhlenberg College and Morning Call, although the results are fairly close to that of the last poll released by Quinnipiac.
The poll also asked respondents their opinions on Corbett and Wolf.
Only 33% of respondents had a favorable opinion of Corbett, while 55% had an unfavorable opinion and 12% were unsure.
Wolf scored much more positively, with 51% of respondents saying they had a favorable opinion of him, compared to 25% of those who had an unfavorable opinion. Meanwhile, a large chunk of respondents (23%) still are unsure about Tom Wolf.
Additionally, many people are heading out to the polls this November to take a stance against Corbett. A whopping 50% of respondents say their vote on Election Day is because they are dissatisfied with Corbett, as compared to the 23% who are satisfied with Wolf. There were also 21% who said it was equal levels of dissatisfaction and satisfaction.
Approval ratings for Tom Corbett are also stuck near all-time lows. A mere 29% approve of the job the governor is doing, while 55% disapprove.
Compared to the Pennsylvania legislature; however, Corbett looks a tad bit better. A tiny 24% approve of the job the legislature is doing, compared to the 39% who disapprove.
The Muhlenberg College/Morning Call poll took place from September 16 – 18, 2014 and included 429 likely voters. The margin of error is plus or minus 5%.