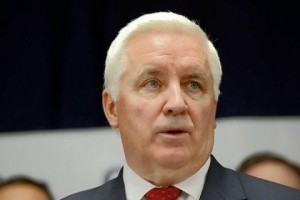 Since its start in 2013, NextGen Climate has been on the forefront of bringing the issue of climate change to the American people.
The group has a plan to do this; inject the issue into races, mobilize concerned voters, and remove climate change deniers from office. One of the officials they're trying to remove from office is Governor Tom Corbett.
The organization laid out their accomplishments and future plans in a conference call to reporters yesterday.
So far, they have succeeded in some of those goals and they're targeting more than 1 million climate voters in seven races across the country. The group is using a "360 degree" direct voter approach, that includes offices in each states, along with a large group of staff and volunteers.
In July, NextGen Climate launched a TV ad in Pennsylvania in which they criticized Gov. Corbett for his support of oil and gas companies. The ad challenged Gov. Corbett to release records of meetings with donors, as well as disclose contributions and letters from the gas and oil companies. The group believes all in Pennsylvania should get a "fair shake" of the natural resources we sit upon.
Overall, NextGen Climate said they spent over $1 million in ads against Gov. Corbett during the summer. NextGen Climate says they looked to polls after the primary season to see if any major shift occurred in the race for Governor of Pennsylvania.
Now, only two months since the release of that TV ad, NextGen Climate is beginning to pull back from PA's gubernatorial. After a slew of bad poll numbers for Corbett, NextGen Climate decided to shift a majority of its focus to the six other states, including tough races for Governor of Florida and a Senate seat in Iowa.
The Corbett-Wolf race is the only election that NextGen felt they no longer needed to continue airing TV ads. Despite shifting focus, the group says they will continue to follow the race closely.
NextGen Climate is a 501(c)(4) started by billionaire Tom Steyer. Steyer formed the organization after a personal revelation inspired him to fight global climate change. His political efforts have drawn fervent criticism from his conservative targets.