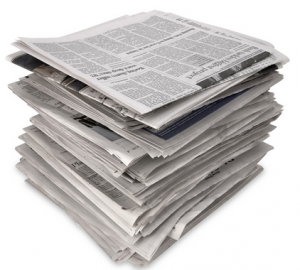 It's that time of year. Newspapers around Pa. are backing candidates. Here's PoliticsPA's running list of endorsements in the gubernatorial race. We'll update as they come in.
Did we miss one? Please email the link to press@politicspa.com.
The Patriot-News: Tom Wolf
So the time has come to try a different approach. And PennLive/The Patriot-News endorses Democrat Tom Wolf of York County for governor in 2014.
Williamsport Sun-Gazette: Tom Corbett
We endorse a second term for Gov. Corbett. Contrary to the ridiculous claims of Wolf, Corbett has increased the state's funding of education. He wants to continue managing the gas industry that is generating jobs and producing revenue and attack the looming pension crisis with changes to make it solvent in the long-term future. He wants to privatize the liquor store system, bringing in revenue from sale of licenses and increasing consumer choice.
York Daily Record: Tom Wolf
This turned out to be a tougher decision than we expected, but we give Mr. Wolf our endorsement.
The Pittsburgh Tribune-Review: Tom Corbett
Four years later, and after much deliberation, we again endorse Tom Corbett. It is not a hearty endorsement. But it is a necessary one, given his opponent's Rendellian proclivities. And it comes with conditions for our continued support.
Philadelphia Inquirer: Nobody
In the absence of an endorsement, the Editorial Board hopes a look at important differences between the candidates will help readers answer that question.
Scranton Times-Tribune: Tom Wolf
Pennsylvanians have a long history of re-electing incumbent governors, to the extent that they never have replaced one.
That should change Nov. 4.
Wilkes Barre Citizens Voice: Tom Wolf
With a series of effective campaign ads months before the Democratic primary, Tom Wolf, a little-known York businessman who served barely 18 months as Secretary of Revenue under Gov. Ed Rendell, presented his personal story and policies to voters. They liked what they heard.
Unionville Times: Tom Wolf
Gov. Corbett has been what the kids call an "epic fail" so it's no shock that he stands to be the first incumbent governor to lose a reelection bid.
Bucks County Courier-Times: Tom Wolf
The key term in judging Republican Gov. Tom Corbett's first term is "tried."
Times-Leader: Tom Corbett
With Corbett, we know what we're getting – and there's a lot to like. Wolf might be worse. He might be better. So long as he favors platitudes to specifics, though, endorsing him simply isn't an option.
Pittsburgh Post-Gazette: Nobody
Pennsylvania voters face two unsatisfying options in this year's race for governor. The Democratic candidate, York businessman Tom Wolf, is untested. The Republican incumbent, Tom Corbett of Shaler, already has failed the test of a first term.
Times-Tribune: Tom Corbett
We have a vision for the future of Pennsylvania that includes a burgeoning natural gas industry, a growing economy and progress in the war on drugs, and we believe Tom Corbett is the better option to get us there.