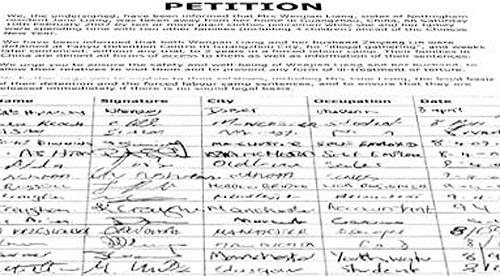 The big winner in petitions yesterday was Rep. Allyson Schwartz who thumped the Democratic competition; Governor Corbett beat her by a few thousand, but that was mostly to be expected given that he has just one long-shot challenger.
Candidates for governor were required to accumulate at least 2,000 signatures, with 100 coming from each of 10 distinct counties.
They are ranked here in quantity of signatures, before any challenges that may knock the numbers down.
1. Governor Tom Corbett (R)
Corbett tallied a whopping 27,747 signatures and received more than 100 signatures from 50 different Pa. counties, and he made sure to get at least one signature from every county in the state.
2. Rep. Allyson Schwartz (D)
Schwartz amassed 22,000 signatures, and unlike Corbett, she was competing against 6 other Democrats to get them. According to her campaign, her filing represents 34 counties.
"We have been so pleased with the grassroots support our campaign has received from over 9,000 individual donors from every county in Pennsylvania, as well as over 22,000 petition signatures gathered through a volunteer-driven grassroots organization from counties in all four corners of the Commonwealth," Schwartz spokesman Mark Bergman said.
3. State Treasurer Rob McCord (D)
McCord put together 12,500 signatures from 61 different counties, according to an estimate from his campaign.
"We're extremely pleased with our petition program. It demonstrated a breadth and depth of support across the state that reflects the incredible network of grassroots supporters, union endorsements, and community leaders who support our campaign that will, in the end, be the difference maker in this race," McCord spokesman Mark Nevins told PoliticsPA.
4. Former Revenue Secretary Tom Wolf (D)
Wolf was catapulted to frontrunner status after a television ad blitz yielded major leads in three polls this month, and his petition signature filing shows that he's got the field organization to keep his name toward the front of the pack.
He filed 12,000 signatures from 50 counties, just short of McCord's 12,500.
"Thank you to all of the volunteers who helped collect more than 12,000 signatures from more than 50 counties to put Tom Wolf on the ballot for the May 20th primary election," says a post on Wolf's Facebook page.
5. Former Auditor General Jack Wagner (D)
The latest entrant to the Governor's race didn't provide an official count (yet), but estimates put Wagner at about 4,600 signatures.
His signatures represent 27 counties, 14 of which we were over the 100 minimum.
6. Former DEP Secretary John Hanger (D)
The signature quantity dropped off significantly after Wolf, but Hanger filed enough to make himself likely safe from challenge.
He submitted 5,356 signatures from 40 counties.
"Our great force of volunteers and supporters worked hard all across the state to gather petition signatures," Hanger said. "This dedication and energy have powered our People's Campaign and it inspires me every day. I can't thank every one of you enough."
7. Former DEP Secretary Katie McGinty (D)
McGinty was just barely beat by Hanger as she filed 5,272 signatures with 100 or more signatures from 14 different counties.
"This is another milestone in our campaign to return Pennsylvania to a position of national leadership," McGinty said. "Our ability to collect signatures in counties across the state shows that we are building a strong organization in every corner of the commonwealth. I believe it's Pennsylvania's time to shine, and I'm so grateful for the broad support our campaign has received across the state."
8. Bob Guzzardi (R)
Corbett's conservative challenger filed just enough signatures to get on the ballot, but he may be in danger of a challenge.
Guzzardi filed approximately 2,900 signatures with 12 or so counties with more than 100. These sorts of numbers are ripe for a challenge.
9. Lebanon County Commissioner Jo Ellen Litz (D)
Litz did not even attempt to file petition signatures, and she's off the ballot. Sayonara.