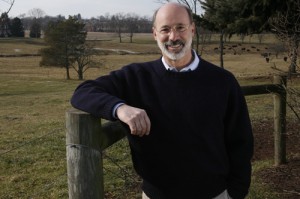 Another poll has brought bad news for the Corbett campaign.
According to the latest results from Public Policy Polling (PPP), Democratic nominee Tom Wolf holds a strong 25-point lead over Governor Corbett (55% to 30%).
These numbers are in line with results from Rasmussen earlier this week that showed Wolf with 51% and Corbett with 31%. Though both are dependable polling firms, Rasmussen tends to be Republican-leaning and PPP Democratic-leaning.
Corbett's job approval stands at 27% with 58% disapproving. Wolf, meanwhile, is viewed favorably by 47% of respondents and unfavorably by 20%. 33% answered that they were not sure.
The former Department of Revenue Secretary leads among both men and women although his margin among women (58-25) is significantly larger than his margin among men (51-36).
When broken down by party, Wolf takes 79% of Democrats against Corbett's 10%. Like in the Rasmussen poll, though, Wolf is the choice of about a quarter of Republicans. The Democrat has a 63% to 20% advantage over the Governor among independents.
Some of Corbett's difficulty may be traced back to trouble with his base. While he is supported by a solid 71% of those who said they were "very conservative". His lead among "somewhat conservatives" is just ten points (46% to 36%). Wolf also runs away with 64% of self-identified moderates against 18% for the incumbent.
Finally, Wolf's lead holds across all races and age groups.
Once again, we must emphasize it is very early in this race but still Governor Corbett can't be happy with these results.
PPP surveyed 835 registered voters from May 30th to June 1st. The margin of error for the survey is plus or minus 3.4%. 80% of interviews for the poll were conducted over the phone with 20% interviewed over the internet to reach respondents who don't have landline telephones.