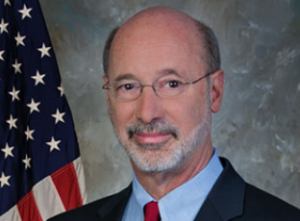 Pennsylvania citizens have now had about five months to form an early opinion regarding the Wolf administration. After a four day surveying period, Public Policy Polling collected data regarding the approval rating of Governor Wolf.
Pennsylvanians were asked the question, "Do you approve or disapprove of Governor Tom Wolf's job performance?" Overall, Wolf received a 40% approval rating, while 35% answered that they disapproved. Another 25% were unsure.
PPP also asked for each respondent's' party affiliation. As many would predict, the majority of those who approve of Wolf are Democrats (62%), while a majority of those who say they disapprove of Wolf are Republicans (56%). Independents disapprove by a 41 to 33 margin.
Additionally, the poll also examined other demographic information, such as gender, race, and age. More women (47%), seem to approve of Wolf in comparison to men (33%). Wolf also sees his highest approval percentages coming from African Americans (63%), while Caucasians are almost equally split regarding approval/disapproval (38%/37%). The Governor is above water among almost every age group with 18-29 year-olds being his biggest supporters (44%). Only among those 65 or older disapprove of Gov. Wolf more than they approve.
Public Policy Polling surveyed 799 registered voters from May 21st to 24th. 80% of interviews were conducted over the phone while 20% interviewed over the internet. The margin of error for the survey is +/- 3.5%.