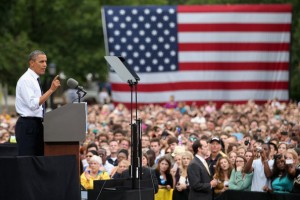 The President is coming to the Keystone State.
Yesterday, the White House announced that President Obama will hold a "campaign event for Tom Wolf and other Pennsylvania Democrats" next Sunday, November 2nd.
The event appears to be the last scheduled campaign stop for the President before Election Day. The goal is likely to drive up turnout in the state's largest city, Philadelphia, which has a heavy concentration of Democratic and black voters.
Pres. Obama has so far limited his campaigning to blue states and gubernatorial races. He has already appeared in Illinois and Maryland. The President is also planning to stump for Democratic gubernatorial nominees in Wisconsin and Maine.
He'll also appear in Michigan for his only event with a Senatorial candidate, Rep. Gary Peters.
Wolf has already welcomed former Secretary of State Hillary Clinton and First Lady Michelle Obama to Philadelphia. Additionally, former President Bill Clinton will appear with Wolf in Pittsburgh on Monday.
There are two schools of thought concerning the Presidential visit and what it says about the current status of the gubernatorial contest.
One theory is that Wolf wouldn't be bringing in such high-profile surrogates if he wasn't afraid of losing the race.
"If it [Wolf's lead] was ten, fifteen points, would they be bringing Bill Clinton into Pittsburgh and Barack Obama into Philadelphia? No," Governor Corbett told WTAE's Bob Mayo.
On the other hand, considering the President's approval ratings in Pennsylvania, you could ask why the Wolf campaign have Pres. Obama appear if they thought there was any chance it could backfire and Corbett could prevail.
Finally, you could argue that the White House is confident enough in Wolf's chances that they chose to hold their final event for him.