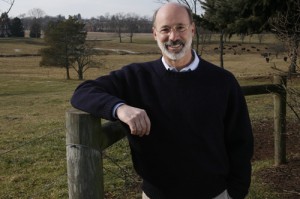 More unfortunate polling news for Governor Corbett.
The latest survey from Quinnipiac shows the incumbent trailing by seventeen heading into the third and final gubernatorial debate.
Democratic nominee Tom Wolf leads Gov. Corbett 55% to 38% among likely voters.
Wolf holds an advantage among men (51-42), women (59-34), independents (49-40) and, of course, Democrats (87-7).
Corbett meanwhile leads Wolf 75% to 22% among Republicans. According to Quinnipiac, however, this is one of the lowest same-party support numbers they found for an incumbent Governor across the country.
Overall, 85% of respondents say their mind is made up while just 13% say they're open to changing their mind.
Wolf's favorability rating stands at 52% while his unfavorables are only 26%. Corbett, on the other hand, has just a 38% favorability rating while 49% view him unfavorably.
The one silver lining is that Corbett did improve on his 24-point deficit from September's Quinnipiac poll. Yet for the incumbent, that pace won't be good enough.
"With a slight shift in the numbers as a handful of Republicans come back, there is a pinprick of light at the end of the long, dark reelection tunnel, but time is not on Pennsylvania Gov. Tom Corbett's side," said Tim Malloy, assistant director of the Quinnipiac University Poll.
"It's a matter of simple math and the ticking clock and both are working against Gov. Corbett."
Quinnipiac surveyed 907 likely voters through live interviews by landline and cellphone. The poll took place from September 30th to October 5th. The margin of error is plus or minus 3.3%.