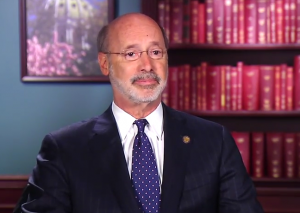 Tom Wolf's numbers are slowly improving.
According to the latest Quinnipiac Poll, Governor Wolf has a 41% approval rating with a 46% disapproval score.
While far from spectacular, this is a 5 point increase from last month's poll. In May, Gov. Wolf was dealing with a 41-56 split so he saw a ten point swing.
It is possible this is a result of Wolf signing the liquor reform bill and taking a more conciliatory track in his second attempt at a budget.
Governor Wolf now has a positive approval rating among the following groups: Democrats (63/22), non-whites (47/27), women (46/41), those with a college degree (46/45) and 18-34 year-olds (43/33).
White women are split 45-45 while the rest remain under water.
This survey was conducted by Quinnipiac University using live interviewers calling land lines and cell phones from June 8th to 19th. They contacted 950 registered voters in Pennsylvania. The margin of error is +/- 3.2%.