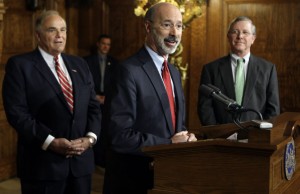 The incoming Democratic Administration is extending a symbolic hand to the last Democratic Administration.
Gov-elect Tom Wolf announced today that former Governor Ed Rendell will serve as Honorary Co-Chair of his Inaugural Committee.
Rendell was the 45th Governor of Pennsylvania, serving from 2003 to 2011. From 2007 to 2008, Wolf served in Gov. Rendell's cabinet as Secretary of the Department of Revenue.
The Corbett campaign attempted to use the relationship against Wolf during the election, but the effort was unsuccessful.
"Today, I am proud to announce Governor Ed Rendell as Honorary Chair and Mary Isenhour and Reid Walsh as Co-Chairs of my Inaugural Committee," said Wolf. "With their combined experience and expertise, I am confident in their abilities to bring Pennsylvanians together in celebrating a fresh start for the commonwealth."
Wolf's Co-Chairs Mary Isenhour and Reid Walsh were his campaign's Senior Advisor and Director of Operations respectively.
Wolf is set to be sworn in as Pennsylvania's 47th Governor on January 20th.