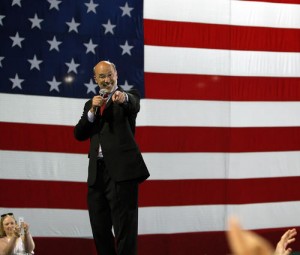 Another poll, another piece of bad news for Governor Tom Corbett.
The latest Robert Morris University poll shows Democratic nominee Tom Wolf holding onto his substantial lead over Corbett.
The survey of likely voters found 50 percent supporting Wolf and 29.2% backing Corbett. 20.85 remain undecided.
If those undecided are pressed, however, Wolf leads 56.8% to 33.8% when "leaners" are included.
Wolf's lead dropped a bit from the last RMU poll which had it at 31 points. They attribute this to the Governor's gain among older Pennsylvanians. Also according to RMU, Wolf leads in every region of the state except central PA, where the Gov has a six point advantage.
About 84% of respondents are "strongly committed" to their choice.
"The problem for the Corbett campaign is that voters have made up their minds," said Philip Harold, professor of political science and associate dean of the School of Education and Social Sciences at RMU.
President Obama
RMU also asked voters whether their decision would be influenced by the support and/or campaigning of President Obama for one of the candidates. Recent reports indicate the President will visit the Keystone State this fall and may campaign for Wolf.
50.6% of respondents said President Obama's support for Tom Wolf would not impact their support. 30% said it would make them less likely to support the Democratic nominee while 14.2% countered that the President's support would make them more likely to vote for Wolf.
Sandusky Scandal
At the same time, 54.6% assert that Gov. Corbett's handling of the Sandusky investigation will have no effect on their vote. Meanwhile, 26.8% are less likely to support the GOP nominee and 12.4% are more likely to support him.
50.4% believe, however, that it took Corbett too long to prosecute the case and 37.8% of people think his campaign should've returned donations from Sandusky charity board members.
Concerning the rest of the PSU issue, 41.4% disagree with the decision to fire head football coach Joe Paterno and 38.6% say the NCAA should have never sanctioned the school.
Split-Ticket Voting
A big question this year has been whether Tom Wolf will have any electoral coattails. Specifically, political observers are waiting to see if a large Wolf victory could bring in new Democratic Congressman in PA-6 and/or PA-8 and if the Democrats could win a majority in the State Senate.
Just 29% of all respondents say they'll vote a straight party line (for one party in every elective office). That breaks down to 16.4% for all Democrats and 12.6% for all Republicans. 23.6% of people, though, responded that they'll mostly support Democratic candidates while 20.8% said they'll mostly support Republicans. 12.4% were evenly split.
This poll was conducted by Robert Morris University Polling Institute and was "Powered by" Trib Total Media. They sampled 500 likely voters from September 26th to 29th. All surveys were conducted using "an online survey instrument". The margin or error is plus or minus 4%.