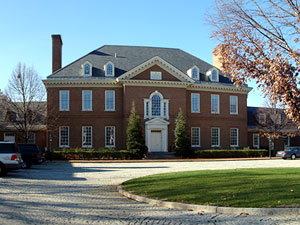 We've examined the fall-out of the first debate and the run-up to the second debate, so it only makes sense to finish with the news that surrounded the third and final gubernatorial debate.
Corbett
In anticipation of Wednesday's debate, the Corbett-Cawley campaign sought to neutralize one of Wolf's primary contentions. The former Secretary of Revenue has repeatedly said that he can't be more specific about his future tax plans until he has all the up-to-date statistics at his fingertips.
In an attempt to head off this explanation (and grab some headlines), on Monday the Corbett camp sent Wolf two-month old tax data from the Department of Revenue and a calculator.
"Secretary Tom Wolf says he is running one of the most transparent campaigns he has ever seen, so he should have no problem releasing the details of his proposed income tax hike on middle class families," Corbett-Cawley Communications Director Chris Pack stated. "We already heard Wolf tell us how much better he works with calculators, so we even sent him a shiny brand new calculator to finally come clean on just how high he plans to raise taxes on the middle class."
"If a graduate from MIT and former revenue secretary is unable to use the most recent publicly available data to come up with the details of his income tax proposal, Pennsylvanians should be concerned that he lacks the ability to provide them or is trying to hide his major tax increase proposal," Pack added.
The next day, the campaign happily reported that the package had made it, complete with photos of the papers and calculator being handed to a confused intern from Wolf's campaign office.
"It is now time for Tom Wolf to stop hiding behind his handlers and come clean on just how high he will raise taxes on middle class families to cover his proposed $6.5 billion in new state spending," Pack said. "Now Dr. Tom Wolf can put his MIT doctorate to good use by doing the math on his income tax proposal and finally tell the middle class how much more they are going to pay in taxes. If Tom Wolf is so certain that Pennsylvania needs a fresh start, he should at least start talking about how expensive that fresh start will be."
After the debate occurred, the campaign unsurprisingly declared victory.
"After three debates, the choice for governor in this race couldn't be more clear, with Governor Tom Corbett demonstrating the same leadership and resolve that has put Pennsylvania back on track over the last four years," Corbett-Cawley Campaign Manager Mike Barley said. "Governor Corbett has kept his promise to keep taxes low, create private sector jobs and reform Harrisburg to leave behind a stronger Pennsylvania for our children and grandchildren."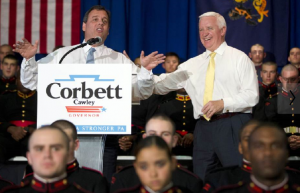 Finally, New Jersey Governor Chris Christie came to the Keystone State on Thursday to campaign for his neighbor. Most pointedly, Christie forcefully pushed back against Wolf's education claims.
"When he says that Gov. Corbett hasn't funded education in this state, it's a lie. It's an absolute lie. When he says that Gov. Corbett doesn't care about the kids in this state, it's a lie," Christie said.
Wolf
Meanwhile, Tom Wolf's allies over at FreshStartPA chose to spend the pre-debate period following up on those embarrassing emails.
The organization focused on former Corbett Press Secretary Kevin Harley. Harley has been implicated in the scandal but is proclaiming his incidence.
FreshStartPA is calling on the Corbett campaign to discontinue their services with Quantum Communications, where Harley now works.
"Tom Corbett needs to explain why his campaign and the Republican Party still retain the services of Kevin Harley's consulting firm even after Harley was named one of the top state officials involved in the pornography scandal in Corbett's Attorney General's office," Campaign for Fresh Start Spokesman Mike Mikus said. "This type of behavior would not be tolerated in any workplace in America, yet Corbett and the Pennsylvania GOP keep paying Harley as if Harley's behavior was not completely inappropriate and unacceptable."
"Given the nature of the pornographic emails, Tom Corbett and the Republican Party should do the right thing and part ways with Kevin Harley and Quantum Communications," Mikus continued. "To continue to retain Harley's consulting firm would send the message that Corbett and the Pennsylvania GOP have no problem tolerating and excusing Harley's involvement in the Porngate scandal."
As for the debate itself, it should come as no surprise that Wolf's campaign believes he came out the winner.
"As we head into the last four weeks of the campaign, Tom Wolf and Tom Corbett have laid out very different visions for Pennsylvania," Wolf Campaign Press Secretary Jeffrey Sheridan said. "We have heard about Governor Corbett's failed leadership and his $1 billion cuts to education, which have resulted in 27,000 layoffs, increased property taxes, and larger class sizes. The Governor's irresponsible fiscal mismanagement led to the state taking out a $1.5 billion loan for basic expenses and we have been downgraded five times in two years. On Governor Corbett's watch, Pennsylvania has also fallen from 9th to 47th in job creation since 2011."
"Tom Wolf will restore Governor Corbett's cuts to our schools with a 5 percent severance tax, he will work to grow our economy by creating opportunities for everyone, and he will get the commonwealth's fiscal house in order," Sheridan concluded. Throughout the debates, it has been made clear that Pennsylvanians are ready for a fresh start."
Now the debate season has finally passed and we can prepare to enter the final three week sprint to Election Day.