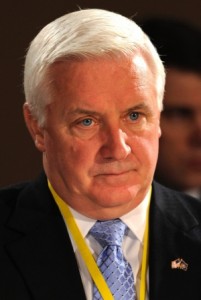 Larry Sabato's Crystal Ball of the University of Virginia's Center for Politics released today its latest predictions for the 36 gubernatorial races happening in November.
The writers see Pennsylvania as leaning towards flipping from Republican to Democrat.
"Only the powers of incumbency and the Keystone State's tradition of consistently giving the incumbent party eight years of control before shifting parties is keeping first-term Gov. Tom Corbett (R) at a Leans Democratic rating," claim Sabato and his cohorts. "That may be too generous to the incumbent. Corbett is in deep, deep danger of losing to Tom Wolf (D), a wealthy businessman and former state official."
In explaining why gubernatorial races are often difficult to predict based on the state's previous party voting record and and why states often flip back and forth between Democratic and Republican governors in the midst of such growing partisanship, Sabato claims that voters see congressional representatives as "talking and voting" while they see governors as "acting and achieving."
"Many voters seem to apply a state-based slant to the gubernatorial questions they pose: 'Has my governor made tangible accomplishments during his or her time in office? Do I feel comfortable with his or her leadership style and executive record? Is my state moving in the right direction or not?' Thus, a skillful governor might be able to get beyond pure party labelling by means of bricks-and-mortar successes."
This theory seems to work inversely as well, as very few voters, across party lines, believe that Corbett has performed well enough to deserve reelection. In addition, Wolf claims more Republicans than Corbett does Democrats, showing a willingness to cross party lines only if voters believe the incumbent has or has not "acted and achieved."
Regardless of this anomaly, the Crystal Ball believes that while party shifts will occur in some states, the overall count throughout the country will remain about the same.