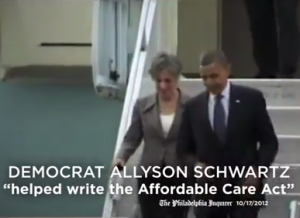 Allyson Schwartz wants everyone to know she supports the Affordable Care Act; she also wants everyone to ask Tom Wolf whether he does too.
The Congresswoman and candidate for Governor held a conference call with reporters this afternoon to further emphasize the campaign's recent push on her work on, and support for, the Affordable Care Act.
"I'm here to talk about how proud I am of this accomplishment," she stated in her opening remarks. "I'm very proud of my work on the Affordable Care Act. I'm proud of my work helping to write this law, I'm proud to run on it and we should all be proud of it."
The Congresswoman specifically mentioned working on the provisions to close the Medicare donut hole for seniors and to ensure children can not be dropped from their health plans because of pre-existing conditions.
She also called out her Democratic opponents, especially front-runner Tom Wolf, to join her.
"Tom Wolf has been a little evasive in expressing his support of the law," she said at one point.
When read Wolf's statement to the York Daily Record that he felt the law was a "step in the right direction" Schwartz responded incredulously.
"I don't know what that means? What does [that] mean?"
When asked by PoliticsPA whether she was afraid her strong support of the law would hurt her in a general election, Schwartz dismissed the criticism.
"I will go toe-to-toe with Tom Corbett on this issue," she said.
When asked if she he felt she could turn this issue into a winner in the fall, the Congresswoman made her feelings clear.
"Of course!" she responded. "You have 500,000 people who won't get health insurance," she said in reference to Corbett's refusal to not fully accept the Medicaid expansion. Schwartz asserted that this stance would shortchange Pennsylvanians and that she would win this fight with Governor Corbett if given the chance.
In addition to slamming Schwartz in their statement, Corbett's campaign took this opportunity to hit Wolf as well.
"Congresswoman Allyson Schwartz is the only Democrat brave enough to run on President Obama's failed policies and the ObamaCare disaster she helped to write. We already know they all want to expand ObamaCare's grasp in Pennsylvania, but we agree that our opponents should speak up and join her in proudly voicing their support for this disastrous legislation," Corbett's campaign manager Mike Barley said.

"Again, here is another example of where Secretary Tom Wolf has been elusive.  Why is Wolf afraid to deliver straight answers on simple questions? If he  really supports ObamaCare, he should come out and let Pennsylvanians know where he stands.  Who is the real Tom Wolf?"
According to Wolf's campaign, these accusations are unfounded.
"Tom's record in support of the Affordable Care Act has been clear and unambiguous," Wolf spokesman Mark Nicastre said. "Tom Wolf would expand Medicaid, institute a state level exchange, and work toward universal, quality access to health care for Pennsylvanians. It's unfortunate and disappointing that Allyson Schwartz would play politics on this given her own record of zig zagging."
Tom has been clear on his support for the Affordable Care Act since the start of the campaign," Nicastre finished, and provided the following citations.
April 2, 2013 – Patriot News: "As for boilerplate issues, Wolf fits firmly in the Democratic Party establishment. He's for marriage equality, is pro-choice, backs "reasonable" gun-control laws, and favors Obamacare."

November 21, 2013 – York Daily Record: Tom Wolf: A better insurance plan for Pa. (column)

February 28, 2014: Tom Talking About Obamacare at the Progressive Summit Debate