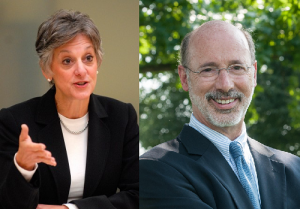 He's been hit with past associates, plagiarism on his website, taking out a loan to finance his campaign and now one of Tom Wolf's competitors attempts to smear him with suggestions of gender inequality.
Allyson Schwartz's campaign hosted a press call today with former Pennsylvania Treasurer and Auditor General, Barbara Hafer, who made quite a few unflattering suggestions about the frontrunner in the gubernatorial race.
"Tom Wolf's television ads paint a very pretty picture about Tom Wolf and his business. But like any fairy tale, the problem with the nice story is— it's just not the full truth," Hafer said. "Tom Wolf says that pay equity is important to him but he has yet to release any of the details of his internal audit on the wage gap at The Wolf Organization. I am calling on Tom Wolf to release the full audit and report to show that he practices what he preaches on television."
Hafer worked with Wolf while they were both members of the Rendell administration and said that she never personally experienced Wolf encouraging gender inequality in the workplace, but said that they both worked under the guidelines of Rendell.
She also pointed to the management team at the Wolf Organization; out of 19 members, two are women and on the Board of Trustees, there are not any women.
"How do we know that Tom Wolf will promote women in government if he doesn't do it in his company?," she asked rhetorically.
"We know what Allyson's record is and it's very telling," Hafer said, repeatedly requesting the release of Wolf's internal audit.
Wolf's campaign doesn't think the accusations hold much water.
"This latest attack by Allyson Schwartz is ridiculous, and Allyson Schwartz knows it," Wolf spokesman Mark Nicastre said.
"Of the six executives Tom has hired since returning to the company, two have been women and two have been African-American. Managers in the company are tasked with improving diversity and there are women serving in important roles throughout the organization. The company also does internal reviews to make sure all employees across the company are paid for equal work.
"As the father of two professional daughters, Tom Wolf takes issues of equality very seriously.
"Tom has also worked hard to promote female leadership in the organizations that he is involved with throughout the community. Tom was on the search committee that brought Dr. Gunter-Smith to York College as the first female President. Tom was the chair of board when the first female CEO came to WITF. Tom was also the President of the board of the Housing Council of York when they hired their first female Executive Director. As President of Better York, he named the first female Executive Director.
"Tom and his wife Frances have also been strong supporters of female political candidates. Together, they have given over $200,000 to female candidates running for office in Pennsylvania and across the country and the largest recipient of their support is actually Allyson Schwartz, to whom they have given over $50,000 in her campaigns for Senate and Congress.
"As Governor, Tom has made clear that he will prioritize making sure his administration represents the diversity of Pennsylvania and fight to pass pay equity legislation."