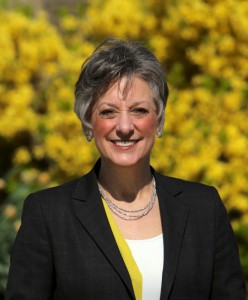 Congresswoman Allyson Schwartz (D-Montgomery) introduced her alternative energy plan today which includes an increase in clean energy, land conservation and incentives for smart, green growth.
"Investing in clean and renewable energy sources will create new wealth and job opportunities for Pennsylvanians, and responsible stewardship will ensure that Pennsylvania's environment is preserved for generations to come," Schwartz said. "Leading the way on clean energy doesn't just make economic sense – it is our moral obligation. But Governor Corbett is failing us with a lack of vision and a refusal to harness Pennsylvania's potential to create jobs while safeguarding the environment."
The following is the summary of her sustainability plan as provided by the Schwartz campaign:
Strengthening Pennsylvania's Alternative Energy Standard to Require "30 by 30." Schwartz will enhance Pennsylvania's Alternative Energy Portfolio Standard to require that Pennsylvania obtain 30 percent of its electricity from clean, renewable sources by 2030. This ambitious but achievable goal will expand job opportunities, reduce carbon emissions, and make Pennsylvania a national leader in renewable energy.

Creating a "Gifford Pinchot Land Conservation Fund." As governor, Schwartz will use the profits from her proposed 5 percent severance tax on shale gas production to create the Gifford Pinchot Land Conservation Fund. Named for a former governor of Pennsylvania and father of the American conservation movement, this private-public partnership will be used to protect open space, reduce carbon emissions by improving natural carbon sinks, and fund land reclamation projects across the Commonwealth.

Making Pennsylvania an Energy Efficiency Leader. Schwartz will strengthen Act 129, which requires Pennsylvania electric distribution companies to conserve electricity. The first phase of Act 129 generated nearly $300 million in annual savings for Pennsylvanians. Schwartz will also promote green building standards and will use revenue from a severance tax on natural gas drilling to fund energy efficiency upgrades.

Developing a Clean Energy Economy. Schwartz will support investments in clean energy and the development of alternative transportation options. She will also prepare Pennsylvanians for the clean energy economy by supporting green workforce training.

Building Green Communities. As governor, Schwartz will prioritize developing sustainable "green communities" by incentivizing smart growth in cities, towns, and rural areas across the Commonwealth.

Reducing Greenhouse Gas Emissions. To address climate change, Schwartz will have Pennsylvania join the Regional Greenhouse Gas Initiative. The Commonwealth will work with the nine other states in RGGI to reduce greenhouse gas emissions.
In her bid for the Democratic nomination, Schwartz faces two past Secretaries of the Department of Environmental Protection: John Hanger and Katie McGinty. Hanger wrote the moratorium on public land drilling during his tenure, so Schwartz has some ground to make up on her environmental credentials.
Also in the field are State Treasurer Rob McCord, former Revenue Secretary Tom Wolf, former Auditor General Jack Wagner and Lebanon County Commissioner Jo Ellen Litz.