The early frontrunner in the race for the Democratic nomination for governor became the last to join the television airwaves with her ad that hit television this morning.
Rep. Allyson Schwartz (D-Montgomery) started running "Got It Done," a 30-second spot that promotes the work that the then State-Senator did in the passage of the Children's Health Insurance Program (CHIP).
There were a lot of kids in our state who did not have access to insurance. But in the state Senate, no one really seemed to care. One of the first pieces of legislation I worked on – you know it as CHIP. I pushed, and I pushed hard, and we got it done. And it was signed into law by Governor Casey," Schwartz tells an audience in the ad.
"It became the national model for Bill Clinton. And hundreds of thousands of children in Pennsylvania have benefitted. It's the kind of big ideas, it's the kind of experience, it's the kind of leadership, I'll bring as your next governor."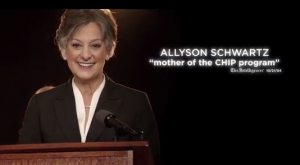 The ad will run in the Pittsburgh and Philadelphia media markets to the tune of $438K.
Schwartz was one of the first to enter the race, and early polls showed her in the lead but when former Revenue Secretary Tom Wolf began a television media buy a few months ago, the momentum shifted in his favor and he has retained a serious lead in the polls since.
State Treasurer Rob McCord and former DEP Secretary Katie McGinty are running smaller buys than Wolf, but have both been on their air for several weeks.