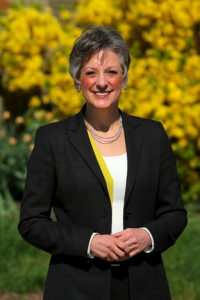 More shots were fired in what is sure to be a brutal battle for the Democratic nomination for Governor was fired today.
Allyson Schwartz's campaign sent out a fundraising email this morning that took aim at opponent and new front-runner Tom Wolf. It wasn't a harsh hit and it didn't even mention Wolf by name, but it was enough to suggest that we'll be seeing more along this line in the future.
"Let me give it to you straight: our opponents (that's right – opponents, more than one!) are millionaires who are willing to throw in whatever it takes of their wealth to win. The latest totals have millions already being spent on television ads," writes Corey Dukes, Allyson Schwartz's campaign manager.
Dukes statement comes at the beginning of a fundraising plea, asking supporters to contribute so they can match the money spent by their unnamed millionaire opponent.
While Wolf is never specifically identified, it is obvious who Dukes is referring to. Wolf made millions through his cabinet company and even gave $10 million of his own money to his campaign. Recently, he has aired numerous TV ads and two polls this week showed him with a massive lead over Schwartz.
The email suggests that the Schwartz campaign plans to keep hammering Wolf on his wealth in the future. The candidates are both expected to attend a gubernatorial debate tonight at the annual Progressive Summit. Don't be surprised if Schwartz, and perhaps others, use this line of attack tonight.
In terms of the Wolf campaign, they don't seem to be distracted. They sent their own email, along with a memo describing how they plan to build on their recent momentum.
"Wolf now has a target on his back as the race moves forward," his campaign presciently writes in their memo to supporters.
Other Democratic candidates for Governor include State Treasurer Rob McCord, former DEP Secretaries Katie McGinty and John Hanger, former Auditor General Jack Wagner, and Lebanon County Commissioner Jo Ellen Litz.