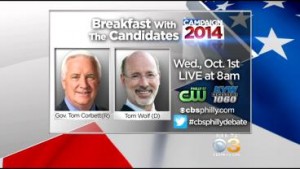 Governor Tom Corbett and Democratic nominee Tom Wolf met today in their second debate of the general election.
In contrast to their previous outing, this debate was much more combative. In fact, this might go down as the "feisty debate" (if "french fry debate" doesn't catch on, more on that later).
The event took place from 8 a.m. to 9 a.m. and was broadcast live as part of KYW Newsradio 1060's "Breakfast with the Candidates." It was also televised live by The CW Philly 57 and will re-air on CBS 3 on Sun. Oct 5th at 1:00.
Veteran news anchor (and PoliticsPA contributor) Larry Kane moderated the discussion. He was joined by reporters Chris May and Cherri Gregg. The candidates sat extremely close to one another at a small table which may have contributed to the sparks.
Education
The first question went to Governor Corbett, who was asked if education in the state was better off than it was four years ago.
"Absolutely, we've increased the funding contrary to what my opponent may say, to the highest level ever," he responded.
When asked about the number of education jobs that have been lost and the protests that have followed Gov. Corbett in Philadelphia, he shifted the blame to the unions and his predecessors.
"I'm disappointed that they feel that way," Corbett said. "14,000 of those numbers [jobs lost] occurred in the previous administration. A lot of that [protests] is being driven by the public education unions…Ed Rendell cut the state funding to education."
"It's a matter of priorities, Governor. You have not been a friend to education," Wolf responded already coming out tougher than he did in the entire first debate.
The candidates that got into an argument right off the bat over property taxes.
"The Governor pointed out some of the challenges that exist. Every Administration has challenges. If education was a priority you'd work through those challenges. That's your job as Governor," Wolf stated.
When asked about getting funds back to schools, Wolf brought up his plan for a 5% severance tax and cited a stark example of the lack of money for schools.
"I've been in schools in Philadelphia where they can't even afford toilet paper," he asserted.
The candidates then got into another argument over fair funding formulas.
"We did have a fair funding formula Governor and you eliminated it," Wolf said followed by a Corbett denial.
Wolf was then asked about how to increase education funding. He stated Corbett was now trying to claim he didn't cut funding, while Governor responded that he already admitted he had.
Gov. Corbett then asked whether Wolf urged Rendell not to replace education money with federal stimulus funds. The Democrat noted that he wasn't Secretary of Revenue when the stimulus money came in. He then pointed out that Wolf and teacher's unions were trying to convince the state that the Governor cut a billion dollars from education.
"But you did," Wolf said. "No, I didn't!," Corbett shot back.
The GOP nominee was then asked about charter and cyber schools and Wolf accused Corbett of ducking the question.
"I'm the only one who's been a teacher here," Corbett concluded.
Budget
Chris May moved on to the budget and the $700 million transfer to the treasury.
"We've done this in the past," Corbett answered. "I reduced the budget by about $72 million. What we do see is the economy getting better."
"Wait a minute, let's look at reality, I'm not sure what world you're in here," Wolf countered bringing up the various debt downgrades the state was recently been given.
The Democrat also got a laugh when he corrected the Governor after he cited the Central Penn Business Times instead of the Central Penn Business Journal.
Gov. Corbett went on to cite positive numbers about job growth that Wolf dismissed.
"Again, the data doesn't support that Governor," Wolf said repeating the claim from a recent ad that said that PA's rank in nationwide job creation dropped from 9th to 47th under his tenure.
"You keep referencing to 47, you know dog-gone-well you're using the numbers incorrectly," Corbett asserted. "John Baer, whose a long-known columnist here in Philadelphia, says the numbers were 36th based on everything and that's actually higher than Ed Rendell was at this point of his Administration."
Income Taxes
Tom Wolf received a rough question via email from a listener about the specifics of his tax plan.
"I've been as specific as I can," he responded. "I'll be specific when I know what kind of hole this Governor has left the next Governor."
Wolf reiterated that he wants to cut the taxes of those in the middle-class, who he classified as making $70,000 to $90,000 individually.
This caused Gov. Corbett to jump in.
"Let me see if I get this right," Corbett asked. "So those two teachers, who make over $90,000, you would consider above middle-class?"
"Assuming those teachers still had their jobs," Wolf shot back in perhaps the most zinger of the morning.
"How much are you going to tax?" Corbett pressed. "In our compilation, all the promises you've made, and I'd love to be able to make those promises too if we had the money-"
"Wait a minute," Wolf injected. "You did make promises, you said you wouldn't increase taxes and yet property taxes went up, the gasoline tax went up, the cost of borrowing is gonna go up- "
"The gasoline tax did not go up," Corbett contended. "You keep misleading people."
"Hope you're coffee is as hot as this conversation is," Kane appropriately said after a commercial break.
Lightning Round
Cherri Gregg then fired some rapid-fire, one-word answer questions at the candidates that the KYW crew referred to as the "lightning round".
"French fries or chocolate?" Both candidates prefer french fries.
To Tom Wolf: Eagles or Steelers? "Penn State, I'm from York," Wolf said in perhaps his smartest answer of the morning.
To Tom Corbett: "Wine or beer?" "Beer."
Do the candidates have any tatoos? Surprisingly no.
What was their first paid job? Corbett delivered newspapers, Wolf mowed lawns.
One thing you do that annoys your wife? "I don't think I do anything that annoys my wife" Wolf
joked. "Interrupting," Corbett answered.
Cats or dogs? Both prefer dogs.
There were a lot of comments about these questions on Twitter and they have generally been ridiculed in other settings. My own opinion is that I have less issue with these kinds of questions, then with the venue in which they're asked. There is only so much time in a debate and these are the kind of questions that could be asked anywhere at any time. Therefore, despite the material it provided, I have to give the lightning round a thumbs down.
LGBT
Both candidates expressed support for hate-crimes legislation.
Extraction Tax
The Democratic nominee was asked whether his severance tax proposal would scare away natural gas jobs.
"A 5% severance tax will not run businesses off from Pennsylvania," Wolf said."I think it will strengthen the industry."
"I disagree with him that these major companies won't leave," Corbett unsurprisingly responded. "They'll leave while the taxes are high."
Jobs
The Governor was then asked about the high unemployment rates among black, Latino and young citizens.
"We've been working on it since I walked in the door," he stated. "But we've got to get the training in there."
"I think it's fair to say we haven't done enough," Wolf said while advocating for improving education and growing jobs in Philadelphia.
Pension
May then queried Wolf about the $47 billion in outstanding pension liabilities and his comments that pensions represented a "problem" rather than a "crisis."
"It will be a crisis if we keep kicking the can down the road as we have been doing for the best ten years," Wolf answered. He also stated he wanted to give Act 120 a chance to work.
"Either Mr. Wolf doesn't know what we've been doing or is intentionally misleading the people when he says we haven't been funding it [pensions]," Corbett answered while reiterating his intent to call a special session on pensions his re-election.
GOP Legislature
The debate then moved on to the question of how a Democratic Governor could work with a Republican legislature.
"I don't think so in terms of gridlock," Wolf responded. "I've never done anything to keep a seat warm."
"When I was Secretary of Revenue, I was actually struck not by how different people in Harrisburg are but how similar they are," Wolf said before turning to Corbett. "I've got to say, you weren't able to work with your own party members in the legislature, I'll certainly do no worse than that."
Corbett went on to describe some of his accomplishments including bringing balanced budgets on-time.
"You actually haven't delivered an on-time balanced budget," Wolf countered. "Last year's budget for 2013-2014 suffered from a $700 million plus revenue shortfall. So you obviously cooked the books to make it look like it was balanced when it wasn't."
"So you're accusing me of a criminal act?" Corbett asked.
"I'm accusing you of overestimating what the revenues we're going to be in last year's budget, we were $700 million short" Wolf answered.
Corbett countered that such shortfall tactics were used by Rendell during Wolf's time there, though the Democrat wasn't convinced.
Minimum Wage
Wolf stated that he supported an increase in the minimum wage to $10.10 and indexing it to inflation. Corbett said he didn't support raising it but wanted people to earn more money than the minimum wage.
The candidates then argued about the commonwealth's overall economic condition.
"I wonder why you ignore the fact we've gone done to what 47th in the country?" Wolf asked.
"Thirty-Sixth according to John Baer" Corbett countered. "Still," Wolf concluded.
Corbett pushed back against conservative charges that he didn't fight hard enough to stop same-sex marriage or defend Voter ID laws. In the one show of support between the candidates, Wolf applauded the Governor for not appealing the marriage equality decision.
Etc.
Then, we came to perhaps to the most entertaining part of the debate.
"The business about the porno emails," Kane began (never a good start).
"Was it fair for the Attorney General to release what she released with limited information?" Kane asked.
"First off, everyone knows I'm totally opposed to those kinds of emails," Corbett said.
"I think the concern is the culture that allows something like that to happen. I mean in every organization I've headed, the culture starts at the top. If there's a culture that somehow makes it seem that kind of thing is permissible then that's a problem."
"Do you think this is in every business?" Kane asked Wolf. "No I don't, it's not in mine," he answered. (Cue dozens of people looking into the Wolf Organization's email history.)
Finally, Gov. Corbett did a great job in the first debate of avoiding any sort of verbal gaffe like those he's committed in the past. He almost made it through his one.
"I can't tell you how disappointed I was," Corbett said. "Cause we have strict rules against it and I did not receive any of those emails. I wished they would've sent me one. I wish they would have, because it would've stopped right then and there."
Suffice to say, the line "I wished they would've sent me one" got a huge laugh from the press room and has already been picked up by national media outlets. Of course, Corbett was trying to make the point that if he had known, he would've immediately stopped this type of activity. Unfortunately, I doubt many people will be bringing up the second part of that sentence.
Conclusion
Each candidate made their closing case. Gov. Corbett said that he had done what he promised and Tom Wolf pledged to launch a new course.
Overall, this was definitely a feisty debate. Both candidates traded shots and Wolf was much more active this time. The Governor held his own, though, in the face of the challenger's offensive. Whether this battle will change the shape of the race is the real central question of the second gubernatorial debate.