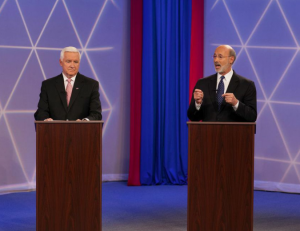 The two competitors for Pennsylvania's highest office met for the final debate of the election season.
Governor Tom Corbett and former Department of Revenue Secretary Tom Wolf answered questions from three moderators from behind podiums.
The one-hour debate (the longest of the three) took place in WTAE-TV studios in Pittsburgh. It was co-sponsored by the League of Women Voters.
Pay Equity Law
The first question concerned the pay equity law and it's ineffectiveness.
"I will do my absolute best to make sure bills like that pass. In my company, I worked hard to make that the case and I think we need to do that in the state," Wolf said while mentioning he wouldn't want his two daughters paid less.
"I think you've found something we agree on," Corbett responded. It would be the last point of agreement of the night.
Education Spending
The disagreements began when the focus turned to education.
"My opponent, along with the public sector unions, have been lying," Corbett said in reference to the contention that he cut $1 billion from education. Wolf didn't back down though.
"A billion dollars was cut in Gov. Corbett's first term and that's the truth," he stated. "We've laid off 27,000 educators over the four years."
Corbett countered that 14,000 of those employees had been fired by Gov. Rendell and that Wolf wasn't recognizing that the situation was affected by one-time federal stimulus spending.
"Gov. Corbett doesn't want to take the responsibility," Wolf hit back. "Leaders have to be responsible. The responsibility was his."
Pension Reform
The moderators then asked about the issue the Governor has focused most of his attention on, pension reform.
Wolf talked about his efforts to pass Act 120 and identified the problem as a bipartisan refusal to pay adequate funds over the last ten years.
"We have paid in full," Corbett contended.
Both candidates affirmed that they didn't want to see the pension system disappear. They did disagree, though, on how to get the additional funds.
"Rearrange priorities," Wolf answered. "I've also called for a 5% severance tax on natural gas drilling." He also hit Corbett for ignoring revenue issues. "You've been Governor for four years now and you're coming to this kinda late in the process."
"He didn't answer your question, as he doesn't answer many of the questions in these debates," the Governor struck back. "I had to dig my way out of a $4.2 billion deficit left by my predecessor."
Marijuana Legalization
In the first of quite a number of curveballs, the candidates we're asked a Twitter question about legalizing marijuana.
"I did not support the legalization of marijuana for recreational purposes," Corbett stated while noting that he does support limited studies on medicial use. He still identified it as a "gateway drug".
Wolf, on the other hand, called for legalizing medical marijuana and decriminalizing "small amounts of recreational marijuana".
Natural Gas
Wolf spoke about his proposal for a 5% severance, or extraction, tax that "according to some estimates would raise about a billion dollars".
Corbett outlined his disagreement with Wolf's positions and asserted that Pennsylvania has the "toughest environmental laws in the nation".
Emails
The Governor again reiterated that he had no knowledge of the inappropriate emails sent in the Attorney General's office and that he condemned it. He also made another poor choice of words.
"All the people [involved] need to be exposed if you want to use that word," he said.
Wolf went back to what he said at the last debate, that this was a problem of culture and that culture comes from the top.
Corbett commented that Wolf was just taking "a political shot".
Income Tax
In what is becoming a bit of a routine, the Democratic nominee was asked for specifics on his tax plans.
"I've been as specific as I can possibly be," he responded.
Wolf also talked about his support for changing the income tax, "I think I can make it a progressive one in terms of income tax."
"Mr. Wolf wants to spend more money but he won't tell you how much," Corbett said. "What is the plan?" The Governor stated that Wolf's answers were "another dodge" and that a constitutional amendment would be required to change the state's income tax.
UPMC/Highmark
The candidates were asked a Pittsburgh-specific question about the impending UPMC/Highmark divorce. Gov. Corbett used it as an opportunity to bash Obamacare while Tom Wolf used it as an opportunity to bash the Governor's lack of leadership.
"This is about people's lives," Wolf said. "This is not about kitchen cabinets for example," Wolf's chosen business, "this is about people's lives."
Reduced Legislature
The Democratic nominee came out against reducing the size of the legislature while Gov. Corbett voiced his support. The Republican's response got a laugh for the press room as Corbett is not known for having the best relationship with the State Legislature.
Municipal Pensions
The Gov said municipal pensions would be included in his pension reform special legislative session after the elections.
Wolf, meanwhile, took the chance to hit Corbett hard on his overall record. "[You're talking] Almost as if, Governor, you're running for your first term here. We need to look not at just what you wanna do but what you've done."
Voter ID
The candidates were then asked about the controversial voter ID law that was passed in anticipation of the 2012 elections. Wolf was against the law, while Corbett voiced support.
The Democrat also sought to make a larger point with this issue.
"We're running as stewards of a democratic tradition, a strong democratic tradition. Turnout [this year] was far lower than in India. We need to work on ways to make our democracy more relevant."
He also accused the Voter ID law of having partisan aims.
"The reason the Republican Party was trying to push this was to reduce Democratic voters," he asserted to the Governor.
When asked for evidence of voter fraud, Gov. Corbett talked about "over 100% participation rates in some districts at the other end of the state." Presumably he was talking about Philadelphia.
"There is no evidence that there's been voter fraud," Wolf countered.
Gas Taxes
The Governor responded to a question about the gas tax by noting, prices have fallen by fifty cents since the passage of the transportation bill.
His opponent, of course, disagreed.
"Prices are higher here because our taxes are higher here," Wolf asserted. "You took a pledge not to raise taxes, and in fact in the transportation bill you did that."
Elected Judges
Both candidates agreed (it did occasionally happen) that appointed judges would be prefable over elected judges.
Death Penalty
The debate then turned to the topic of the death penalty.
"I do continue to support it," Gov. Corbett said noting that he had  just signed some death warrants.
"I think we ought to have a moratorium on capital punishment cases in Pennsylvania," Wolf countered. The Democrat was not convinced that the current system was working properly or effectively.
Act 47, Municipal Bankruptcy
For this local issue, Wolf adovcated for greater effort to build cities while Corbett blamed pension costs.
Autism Funding
Both candidates were in favor of more funding for autism but differed on how to pay for it. Corbett again mentioned pension costs while Wolf countered that it is a "matter of shifting priorities. Addressing the issues that actually exist."
Gun Control
Wolf came out for some modest gun control measures like "reasonable background checks" and "safety training courses".
Corbett asserted that background checks already exist and noted how he attacked straw purchasers in Philadelphia.
Film Tax Credits Cap
The candidates once more used this local Pittsburgh issue to get back to their talking points.
"Where do we get the revenue? Who gets the revenue?," Corbett asked about new taxes.
"Again, this requires leadership. What are we doing that we shouldn't be doing?," Wolf asks while noting that the state has fallen from 9th to 47th in job creation under Corbett's Administration.
Minimum Wage
Wolf supported a $10.10 minimum wage indexed to inflation while Gov. Corbett thinks it should stay consistent with the federal level.
Closing Statement
"I am not the kind of candidate you've seen before," Wolf concluded. "I think Pennsylvania can be better. We need to invest in education, we need to invest in transportation. Our education condition is awful."
Governor Corbett summed up his message in his opening sentence. "I'm running for Governor because I'm not finished yet," he said.
It is always difficult to judge what candidate "won" a debate because it is next to impossible to agree on the proper way to judge each participant's performance. The event did not seem to be a "game-changer", but then again that is what elections are for after all.