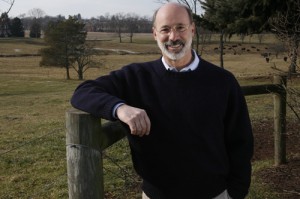 Governor-elect Tom Wolf, and his wife Frances, will forgo a fundraising reception and will instead give the money to food banks in Pennsylvania.
Wolf did this last year as well in a smart attempt to attend the event while still preventing the appearance of being out of touch.
In addition, Tom and his wife will volunteer at a local soup kitchen in the state. The Wolf family sent the following letter to members of The Pennsylvania Society:
Dear Friend,
For over a century, Pennsylvanians have traveled to New York City to celebrate the holidays at Pennsylvania Society weekend. It is part of a long tradition that brings people from throughout the commonwealth together. Frances and I have always enjoyed this special weekend in New York during the holiday season.
Last year, instead of holding a fundraising reception at Pennsylvania Society as typically is the case, I contributed the cost of such a reception to Pennsylvania food banks so that those who are less fortunate than many of us may enjoy a brighter holiday. My staff and I also participated in our own small day of service on the Thursday prior to Pennsylvania Society.
This is a tradition I plan to extend. This year, I will again contribute the cost of a fundraising reception to Pennsylvania food banks and volunteer with Frances at a local soup kitchen. My staff throughout the state will volunteer for local efforts, and we invite others to join us.
Our contributions will be made to the Central Pennsylvania Food Bank, the Greater Pittsburgh Community Food Bank, Philabundance, and Our Daily Bread in York. We encourage others to join us to help give those less fortunate than us a brighter holiday season.
With warmest regards for a joyous and peaceful holiday season.
Sincerely,
Tom and Frances Wolf