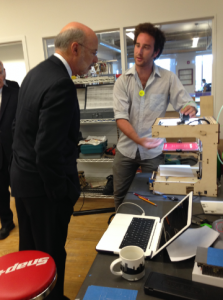 Today Tom Wolf visited AlphaLab, a company that provides tech startups with collaborative workspace and access to mentors, in the Larimer section of Pittsburgh.
The stop is a part of his Fresh Start tour, through which he is travelling the state in an effort to meet strong innovators and learn how their fresh ideas can lead to job creation in PA.
He spent the majority of his time at AlphaLab visiting with each of the nine startups that work in the space, asking both what Harrisburg could do to help them, and, in return, what they could do to help PA.
He chatted quietly with the members of each startup, obviously focused more on the ideas in the room than on the flashing cameras at his back.
His main focus was on PieceMaker, a company started by two Carnegie Mellon University grads that produces touch-screen kiosks with 3D printers inside that allow consumers to customize colorful plastic pieces and then turn them into keychains, necklaces, or magnets. Co-founders Alejandro Sklar and Arden Rosenblatt claim that this allows "inventory-on-demand" for toy stores.
They gave Wolf a purple plastic piece depicting the Pittsburgh skyline, suggesting he glue a magnet to the back and put it on his fridge.
He told the press that the importance of places like AlphaLab was allowing entrepreneurs to "take basic research and monetize it."
"You want people thinking about the next big thing," and believing that "PA is a fair place to take risks and invest talents," he asserted.
When asked how companies started by individuals with such technical degrees can benefit the manufacturing sector, Wolf responded that "the products need to be made, they need to be delivered." As the startups, such as LifeShell, which designs cellphone cases that protect their users from sexual assault through notification, grow, they will be able to employ Pennsylvanians.
The Budget Standoff
When faced with inevitable PA budget questions, Wolf refused, despite insistent questioning, to state whether he would veto the budget that is currently sitting on Gov. Corbett's desk. "I'm trying to not insert myself," he said. "If I were governor, I would hope that after four years I wouldn't be put in that situation."
Wolf said that he didn't want to respond to hypotheticals, because if he were governor, he wouldn't have been delivered a budget full of "smoke and mirrors." He claimed he would have been involved in the budget shaping process, leading to a lack of surprises from his legislature.
He did, however, straightforwardly say that he believed that the debate over pension reform was not worth holding the budget hostage. He also claimed that he would have ensured that a 5% severance tax on Marcellus Shale drilling to support education and a reduction of expenditures through Medicaid expansion were included in the budget.