Voters must really have loved Tom Wolf's Jeep in his previous ads, because now it's the setting of his latest TV commercial, titled "Take a Drive".
While cruising around in his beloved vehicle, the candidate laid out the reasons he is different than the typical politicians in Harrisburg.
"If I treated my customers the way the politicians in Harrisburg treat the people in Pennsylvania, they'd tell me to take a hike," Wolf declares.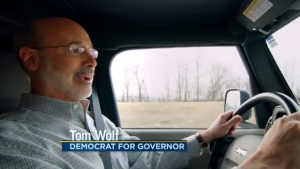 The Democratic candidate brought up the infamous 2005 pay raise to prove his point (indicating that nine years later the legislature has still not been able to shake the stench of that deal). Meanwhile, Wolf asserts that body still won't adequately fund the state's schools.
"They support a tax structure that favors the rich and we're the only state in the country that lets oil and gas companies off the hook," Wolf states as a graphic informs viewers that PA is the only state without an extraction tax.
"We've gotta end politics as usual in Harrisburg and stand up for the middle class for a change," he concludes.
Other Democratic gubernatorial candidates include State Treasurer Rob McCord, Congresswoman Allyson Schwartz and former DEP Secretary Katie McGinty.