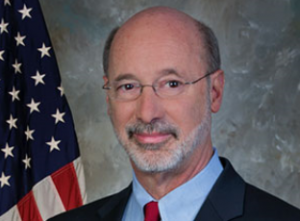 Governor Wolf's nominee for Police Commissioner, Marcus Brown, is stepping down.
Just as soon as the Senate confirms someone to replace him.
Last week, Gov. Wolf tried to recall Brown's nomination but the State Senate decided to vote him down anyway.
Now, the Governor says he is withdrawing Brown's name from any further consideration but that Brown will remain Acting Commissioner until a successor is chosen.
"Marcus Brown is the type of leader that Pennsylvania would be lucky to have," Wolf stated. "Despite Marcus' vast and unquestioned qualifications, the Senate wrongfully rejected his nomination in a move that put politics above the best interests of the people of Pennsylvania, and it is now appropriate to select a new nominee to lead the Pennsylvania State Police."
"Marcus Brown will remain acting commissioner while I search for a new nominee," he continued. "The Pennsylvania State Police are the commonwealth's top law enforcement agency, and the most distinguished agency in the country steeped with tradition. Their next leader will build on these traditions while looking for opportunities to ensure that the force reflects the diversity of Pennsylvania."
Republicans are likely going to be unhappy to hear that Brown will remain in charge and this conflict may be far from over.
Update: Acting State Police Commissioner Marcus Brown released his own statement:
"Earlier today, I submitted to Governor Wolf my withdrawal from consideration to be commissioner of the Pennsylvania State Police. It has been an honor leading the State Police, and the men and women of this organization are of the highest caliber. I thank Governor Wolf for this opportunity. I will remain as acting commissioner until Governor Wolf selects a new nominee."