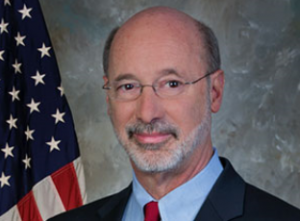 Gov. Tom Wolf has released the list of the individuals who will sit on the newly-created Pennsylvania Pipeline Infrastructure Task Force.
The committee will be chaired by DEP Secretary John Quigley and will have 101 members in total. These experts and stakeholders will serve on 12 work groups focusing on pipeline safety and integrity, conservation, agriculture and emergency preparedness, among many other issues.
"Governor Wolf has charged the task force with crafting an innovative, collaborative and responsible approach to pipeline development that balances environmental protection with economic opportunity," Quigley said in a statement. "Through smart planning, Pennsylvania can experience economic prosperity, achieve energy security, and protect the environment and communities."
The Secretaries of the Departments of Health, Transportation, and Community and Economic Development, as well as representatives from the Dept. of Conservation and Natural Resources, the Dept. of Agriculture, the PA Emergency Management Agency and several others will create a report of recommendations for Gov. Wolf by February 2016.
"Pipeline expansion is important to our economy and growing energy sector," Wolf said in the statement. "We will work together to make sure that this important infrastructure can be developed effectively and responsibly with consideration for the environment, residents and local communities."
The PA Pipeline Infrastructure Task Force's first meeting will be held at 1 p.m. on July 22 at the DEP's Southcentral Regional Office in Harrisburg.