PA-Gov: Wolf Answers Budget Questions in Facebook Town Hall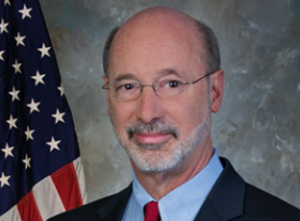 Gov. Tom Wolf took to social media again Tuesday for another Town Hall with constituents — this time to field questions about his first proposed budget.
The 20-minute Town Hall was live streamed on the governor's Facebook page, and he answered a number of questions that had been posed by Pennsylvanians in comments the previous day.
Wolf continued to come back to two portions of his budget: property tax relief and investment in education — measures he said Pennsylvanians have repeatedly called for. According to the Governor, his proposed budget strikes the right balance between these two constituent concerns, unlike the budget plan drafted by the Republican-controlled legislature.
"While it does a nice job in reducing property taxes dramatically, it doesn't make the investment in public goods, and in education specifically, that we need to make," Wolf said of the legislature's budget plan. Wolf stressed his attempt to create $3.8 billion of property tax relief, while still leaving room to make "the investments we need to make a great future."
The main way Wolf intends to reduce property taxes is to lower the reserve cap required for districts to raise property taxes without a referendum. In current law, if a school district's reserves are lower than 8-12 percent, the district can increase property taxes without a referendum requirement. Wolf proposed changing this cap to 4 percent.
Overall, Wolf stressed that Pennsylvania needs to increase its investment in education.
"My investment in education is premised on the idea that all students in Pennsylvania will get a good education, a full education," Wolf said in response to a question concerning the disappearance of arts programs in schools.
In regards to cyber charter schools, Wolf is proposing a two-fold solution to address the benefits of charter schools as well as the complaints against them.
"What I'm proposing is accountability to make sure every child gets a good education in a cyber charter school, and also proposing a formula for reimbursement that should protect the taxpayer from paying too much," Wolf said.
These two significant parts of his budget, Wolf said, is indicative of the concerns he heard on the campaign trail and from his constituents — the same concerns, he noted, shared by the constituents of Republican lawmakers. For that reason, Wolf believes he and his Republican counterparts can collaborate to reach a budget agreement.
"So the fundamental area of agreement, I think, is that we all want the same things, as so we can start from that point, and there will be areas of disagreement, but I'm hoping that I can build support simply by the elements that I put into this budget," Wolf said in response to a question on reaching consensus with the legislature
To achieve the many things Pennsylvanians are asking for, however, Wolf said requires an increase in the state's sales tax. He proposes a 0.6 percent increase — from 6 to 6.6 percent — as well as a broadening of the base.
Wolf explained the increase as "making sure we're bringing the sales tax…from the 1950s, which is when it was first established, to the 21st century, when a lot of new products and services are being sold and consumed than were in the 1950s."
"The economy is different now, and I think that tax should be brought up to speed," he continued.
Wolf also reiterated the timeline for the phases of the state's Medicaid expansion — which extends Medicaid services to an extra 600,000 Pennsylvanians. The goal is to have the first phase completed by early June, and then the whole plan by late September/early October.
The Governor also addressed his proposed severance tax on the natural gas industry in a question about renewable energy.
"I think the gas industry can not only be a source of revenue for the state for education, for example, but a source of new jobs," Wolf said. "I also see the severance tax as a place that we can raise money for building a bridge to a sustainable energy future."
During the Facebook Town Hall, Wolf also answered questions regarding the increase of the minimum wage and the legalization of marijuana — both of which he supports. The Gov. also fielded a question concerning recent events in Indiana and whether he supports non-discrimination legislation concerning sexual orientation.
According to Wolf, inclusive business practices allows companies to have access to the best talent out there, because they have the broadest pool from which to choose.
"We need to make sure that Pennsylvania continues to be welcome and open to everybody, regardless who they are, who they love, what religion they profess," Wolf said. "We all need to look at inclusion as something that's not just right but something that's smart."
The Governor also spoke about the role of social media in connecting with his constituents — first with a Twitter Town Hall and now with a live streamed Facebook Town Hall. These forums are just another way he is able to interact with Pennsylvanians, who he called "the people who hired" him.
"I'm 66 years old, so this is new for me," Wolf said, jokingly. "But it's something that I think is really important, and I'll keep looking for new ways to reach out and make sure that I'm communicating and listening and hearing what I should hear from the people who I serve."
Not everyone was able to hear what Wolf had to say, however. The Facebook thread announcing the Facebook Town Hall was littered with posts from Pennsylvanians unable to connect with the live streaming video. Dozens of frustrated posts complained of receiving "Page not found" messages when trying to connect.
A few of the comments commended Wolf for hosting the Town Hall. "Thank you for the informative, live stream Q&A!" wrote Danielle Suppa.
Those posts were difficult to find among the complaints, however. One constituent, William Giordano, even wrote in regards to the failed live stream video, "Just like our government, it's not working for any of us."